David Irving has returned to London, UK, and is writing
---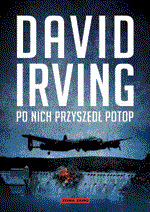 DAMBUSTERS. Now also in Polish bookstores: The Night the Dams Burst | and English edition

"GOEBBELS. MASTERMIND
OF THE THIRD REICH"
The controversial
David Irving biography,
752 pages plus 40 pages of photos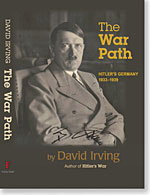 Focal Point reprin
of a David Irving classic, with 27 pages of unknown photos
[Click here to see jacket]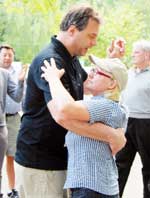 Above: high jinks on our 2011 tour of Hitler's HQ - one of our esteemed guests gives our Polish guide a tango lesson. This year's tour: all four grim "Reinhardt" sites and three massive bunker-ruin sites, including the Wolf's Lair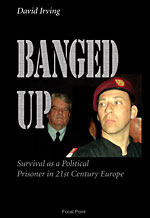 BANGED UP: The full story of how the Austrian secret police ambushed and imprisoned Mr Irving 2005-6 -- for a lecture he gave sixteen years earlier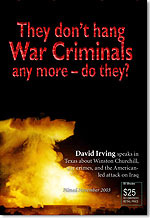 enlarge. Video DVD: THEY DON'T HANG WARS CRIMINALS ANY MORE - DO THEY? David Irving at Alvin, Texas: "Hitler, Churchill, and Iraq - war crimes of the modern world." $25
DVD: The Life and Death of Heinrich Himmler.

enlarge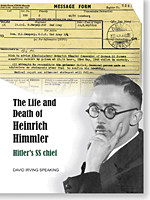 David Irving speaking at Niagara Falls in 2012. Drawing on data from Moscow and other archives, he talks about Himmler's mysterious death in 1945, his achievements, and how much he actually told Hitler of what his SS was doing. $25. Special to this website's readers, $20.

---
Video DVD: Now available. David Irving speaks on THE SEARCH FOR TRUTH IN HISTORY • After billionaire oligarchs bribed the Canberra Government to ban him from Australia, he entered another way - on 10,000 videos! $25|

enlarge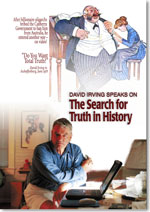 ---
Video DVD: David Irving's message to the Germans: $30: click for details
(will not be shipped to Germany)
---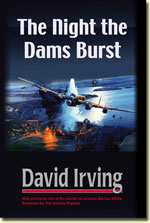 - a thrilling war story of British genius and heroism.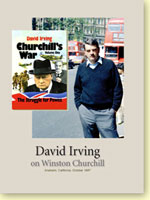 Video DVD: DAVID IRVING talking about Churchill's War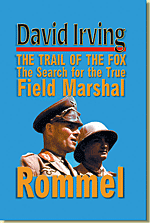 AVAILABLE IN POLISH:-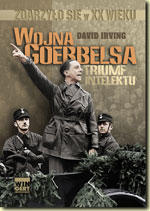 DAVID IRVING'S FAMOUS GOEBBELS BIOGRAPHY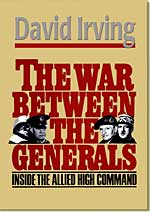 David Irving's classic history of the infighting between the top Allied generals during the 1944 invasion of Normandy, based on their unknown private letters and diaries.

David Irving's daily newswatch on History and Human Rights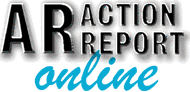 ---

Hitler's War (right) is sold out, and will be reprinted in September; we have finished the new enlarged picture-section, replacing illustrations which were returned to original owners


---



There were eight Munich "terrorists" – and none is buried at the Tunis Cemetery that Jeremy Corbyn visited – so what's the next anti-Labour smear, Mr Netanyahu? | The Unz Review: Philip Giraldi, Why confronting Israel is important. The Jewish state is no friend | Sad news: Jewish lawyer and his wife, Mark Lewis and Mandy Blumenthal, announce, "I'm leaving the U.K. [for Israel, where else] because of anti-Semitism" and they say that Jeremy Corbyn is to blame |

YouTube: Anti-Semitic smears: [U.K.Labour Party leader] Jeremy Corbyn hits back at last – he turned the other cheek too often

Jerusalem Post: Micah Halpern argues Anti-Semitism exists in US politics

A gloomy but probable private prediction on "The Gradual Decline and Fall of the United States"

Times of Israel: Malaysian PM says he should be allowed to criticize Jews – "I am glad to be labeled anti-Semitic . . . How can I be otherwise, when the Jews, who so often talk of the horrors they suffered during the Holocaust, show the same 'Nazi' cruelty and hard-heartedness "

news.com Australia: Party Leader Bob Katter supports Senator Fraser Anning – "End Muslim immigration"; calls for "final solution" plebiscite – says Australians are being buried by a mass migration program, to line the pockets of the rich and powerful | Daily Mail: Writer behind senator's "final solution" speech had a "fascination with 'Nazi' Germany" – which of course the Daily Mail has never had | The Guardian: Australian senator calls for "Final Solution to immigration problem" | Sydney Morning Herald: Bob Katter [Australian Party] defends Senator, labels "Final Solution" speech as "absolutely magnificent" – and bang goes another good career in Australia. Except it shows that True Australians don't like Them either.

Daily Mail: South African ANC "draws up list of two hundred farms it will seize" from Whites – a recipe for slow catastrophe

Felony fraud charges against Jew for "fixing" New York synagogue's bingo game – they prey even on fellow-Jews

Canadian Jewish News: Canadian Lawyer David Matas expects to face hostile crowd at anti-Israel symposium

Telegraph: Christ Hastings, in 2001: Irving risked prosecution over secret

Weekly Standard: Dominic Green, Jeremy Corbyn and the Labour Party's Jewish Problem – surprise, Dominic Green also writes on Israel and Judaism

Independent: Israeli school pupils again caught dancing naked at "Nazi" death camp [Maidanek] – the profitable death toll at Maidanek has begun quietly rising again | Israeli student sent home after exposing buttocks at "Nazi" death camp

Reuters: Top U.S. journalist questioned by Israeli security authorities – Netanyahu horrified

Old news: Day Jeremy Corbyn gave a speech at the wedding of an alleged Holocaust "denier" — five years before he was elected Labour leader. So? | U.K. Labour Party is right to shun racist IHRA "guidelines" on anti-Semitism – so say Manchester (U.K.) Jews – and read the hundreds of enjoyable comments

Interfering in U.K.'s next election, Israeli-coordinated campaign against the U.K. Labour Party leader Jeremy Corbyn [whom we support] continues. Daily Express (U.K.): Former Labour leader pays for advert [in Jewish Telegraph] to blast Jeremy Corbyn over 'anti-semitism"' – We naturally wonder where the shekels came from? | The Courier (Scotland): "A Mossad-assisted campaign to prevent the election of a Labour Government": Scottish Labour councillor in anti-Semitism row | Jeremy Corbyn apologises for hosting Holocaust Memorial Day event at the House of Commons where the Israeli government was likened [by Hajo Meyer, a Jewish survivor of Auschwitz] to the "Nazis"

Australian Jewish Wire: Anti-Semitism on the rise in Germany [yawn] – "Nevertheless," says Ronald S. Lauder, billionaire president, World Jewish Congress, "it is clear that concerted efforts are needed across the Board to arrest the steady rise in violent incidents and harassment and ensure that German Jews continue to feel secure and valued as all German citizens deserve" — Can they never ask themselves, Why Us?

Sky News (U.K.): Wreath-laying row: Jeremy Corbyn hits back effectively at Israeli leader Benjamin Netanyahu – incidentally, we have a photo of Lord Hain weeping tears at the graveside of a convicted South African terrorist

Times of Israel: U.K. Green Party leadership frontrunner rapped for likening Israel's Gaza operation to the "Holocaust"

The Unz Review: Tobias Langdon' Gas-Chamber Blues Revisited – he reveals the background of Anthony Julius, the triumphant libel lawyer for "five-times Liar" Lipstadt, who did not however speak a word in court in three months in the High Court

A "Nazi" travels to Palestine in 1933 and the result

i24news: Germany cracking down on seller of Zyklon B peanut can, Hitler wine

Free speeech in England: Alison Chabloz says: "Hate crime's alright if you're non-White."

Politico: More "anti-Semitic" crimes reported in Germany | YouTube: David Irving's speech in Weinheim, Germany, 1990 – Günter Deckert was imprisoned by Germany for seven years for chairing this meeting, although Mr Irving was prudently careful not to utter the dozen words the police were watching for. The Judges held that Mr Irving had been known to say them before, as Deckert was surely aware ... Go figure. – Part 1 | Part 2 (part 2 is already blocked in Germany .... after less than 24 hours. (Shows who is back in control there)

Times of Israel: Austria probes school students over "Nazi role" play

Up to their old tricks. Sydney Morning Herald: Fugitive Jewish South African lawyers [Ronald and Darren Bobroff] own property in St Ives, Vaucluse [New South Wales, Australia], documents show — is it "anti-Semitic" to say beware of Jewish shysters? | Interpol alert for St Ives lawyers wanted over charging of South African clients – "cheques were made out to clients of the firm Ronald Bobroff and Partners Inc as if they were the beneficiaries of said cheques, when said cheques were in actual fact paid to their own or other family members' bank accounts," the Interpol notice reads

YouTube: Interesting documentary (in German) on the wartime foreign ministry: Diplomatie intern: das Auswärtige Amt in der Ära Ribbentrop Doku (2004) – interesting comments, by people gradually awakening

Independent: This is what modern "Holocaust denial" looks like. No wonder British Jews are so scared –they say, "The holiday is over" — and perhaps U.K. Jews should study the 700 unedited comments the article has now attracted

The New Observer: Six U.S. Jewish "Godfathers of Payday Loans" sentenced | U.S. Justice Dept: Reputed "Godfather of Payday Lending" forfeits $9,621,800 – jailed in same case, over 780 percent interest racket

Russia Today: Twitter suspends Ron Paul Institute executive's account, one day after "Big Tech" blocks InfoWars | Infowars: Hungary to abolish "gender studies" degrees [e.g. at a Sörös-funded university], citing lack of demand on job market

Jewish Chronicle: British Rabbis condemn Boris Johnson and warn Jewish community not to flirt with Islamophobia — it's not true that Muslim womenfolk in hijab "look like bank robbers and walking letterboxes"

SPLC is finished: Attorney General Jeff Sessions says the Justice Department will not partner with groups that defame, singles out the Southern Poverty Law Center for its "hate-group" campaign – Speaking at the Alliance Defending Freedom Summit on Religious Liberty, he accused the wealthy SPLC of wielding the "hate" designation as a "weapon … against conservative organizations"

Russia Today, RT: Norwegian daily depicts Netanyahu as swastika-shaped enforcer of apartheid, is accused of "anti-Semitism" | "Sick of media lies": Thousands protest BBC broadcaster bias

Anal Independent: John McDonnell [Shadow Chancellor, U.K. Labour Party] calls for new Anti-Nazi League movement to combat far-right - why can't Labour do it themselves?

Israel National News, U.S. mayoral candidate [Michael Hoffmann]: Questioning Holocaust isn't "anti-Semitism"

The Forward: Jewish couple may have pulled $160million art heist – Rich, elderly Jewish couple Rita and Jerry Alter walked away from an early morning 1985 trip to an Arizona museum just before it opened on Thanksgiving Day with quite the souvenir. Not that they could sell it

Local Dorset press, but not U.K. national media, reports: Who is secretly funding Tom Watson [deputy leader of U.K. Labour Party]? – Records reveal that the vast majority of regular donations that Watson receives are from Sir Trevor Chinn of the Jewish Leadership Council (previously known as the Jewish Community Leadership Council, who also funded "Liar" Lipstadt's libel defence. More on Tom Watson — so Watson's the n+gger in the woodpile, as Churchill once said

Electronic Intifada, Asa Winstanley's Lobby Watch: Israel running campaign against Jeremy Corbyn – latest evidence of an Israeli campaign of psychological warfare against the UK's main opposition party – An app. operated as part of an Israeli government propaganda campaign issued a "mission" for social media users to make comments against Labour Party leader Jeremy Corbyn, accusing him of "anti-Semitism" | The Daily Mail suggests: "Rattled Jeremy Corbyn is on the brink of a climbdown" – shows how deeply in the mire Britain's vanishing newspaper industry is | U.K. Labour probe into fractious Jewish MP Margaret Hodge [née Oppenheim] is dropped. So, who's interfering with democracy now?

A first look at Hollywood's "Operation Finale" – the film about Mossad's kidnapping of Adolf Eichmann starring 75 year old Ben Kingsley as Eichmann. When will Hollywood film trials of Jewish gangsters and war criminals? Oh, we forgot ...

How an ex-cop rigged McDonald's Monopoly game and stole millions. The relevant chief of security, an ex-cop named Jerome Jacobson, and his network of mobsters, strip-club owners, and drug traffickers ... need we say more?

Eviction of Dutch Jews from "Nazi"-ravaged synagogue brings back bitter memories – They sold it. Seems like they want to have their cake and eat it

"Zyklon B tested on humans" – all lived. Thought-provoking video posted on YouTube since Dec 2013. Is this brief (seven-minute) film test authentic? We do know that Zyklon is effective on lice, as they "breathe" through their skin; but not on humans?

How we learn English: Son of executed Julius and Ethel Rosenberg celebrates belated bar mitzvah – one person, told as an infant that the photograph of the two Jewish Soviet spies published at the time in the Atlanta Journal-Constitution showed "traitors," believed for many years that the word traitors meant "ugly"

Jewish man guilty of making bomb threats – meanwhile "anti-Semitism" figures on the increase

Mint Press News: U.S. military aid to Israel in year 2018/2019 set to exceed a record $3.8 billion – shocking, given that the Leahy Laws enable the U.S. to withhold military assistance from foreign security forces if they are in violation of human rights (GVHR), or Nuclear Non Proliferation Act. GVHR offenses include: extrajudicial killings; torture or cruel, inhuman, or degrading treatment or punishment; prolonged detention without charges and trial

End of Freedom of Speech: (U.K.) Jewish Chronicle, Ben Weich: British police investigate convicted "Holocaust revisionist" Alison Chabloz over fresh blog posts – this is what we get when we allow these guests into the U.K.

Daily Telegraph: Revealed: how King George V demanded that Britain enter the First World War – the record of a previously unknown meeting between H.M. King George V and his Foreign Secretary reveals that in August 1914 the King told him to "find a reason" to go to war with Germany. When will we learn the real reason why Britain and her Empire went ruinously to war with Germany again in September 1939 — and why the F.O. insisted that King Edward VIII abdicate in 1936?

Daily Express (UK): Jeremy Corbyn's anti-Semitism statement angers Jews, as he publishes article on Sabbath – he shoulda known better | £100,000 compensation for Doctor of Year branded a "racist" for voicing concern over Asian medics

---

CLICK below for complete 30pp interactive descriptive Catalogue of all David Irving's books so far — both available and as work in progress

---

---

[Bookstore: buy them here]

Benefit fraud and tax evasion are "rampant" in Stamford Hill (UK) Orthodox Jewish community, High Court hears. Murray H Rosen QC [sitting as a Deputy Judge of the Chancery Division] agrees, talks of "disgraceful illegality"

Australian Jewish News: NSW Justice Lucy McCallum rules for Australian Jewish News in defamation case – "the evidence has persuaded me that the Australian Jewish News acted with the highest journalistic integrity." – Hmmm, and who are we to argue with her? They always act with highest integrity

Sydney Morning Herald: Interpol alert for St Ives, New South Wales, Jew lawyers wanted for overcharging South African clients

Russia Today: AfD local leader takes heat after (rightly) calling Stauffenberg, who tried to kill Hitler, "traitor and coward" – Not mentioned: the bungler Stauffenberg also murdered four innocent Germans, like the civilian stenographer Heinrich Berger (left); we personally knew two of the widows that Stauffenberg left behind

At Jewish request, Police launch new investigation into English "hate singer" Alison Chabloz – "British" Jews seem determined to get her, and still they don't ask themselves the question, Why Us? – British taxpayers are paying for the fatal mistake we made in 1938 by allowing the universally-unwanted Jews in as guests, after every country (except the Dominican Republic) refused to accept them at Evian, an international conference they don't like talking about

Boat immigrants down eighty percent in populist Italy, up 350 percent in Socialist Spain – and drownings are halved too, thanks to Italy's bold action

thelocal.de (German Government source): A bad joke: The German Constitution's Freedom of speech doesn't cover "Holocaust denial" – rules Germany's top court conveniently in Ursula Haverbeck appeal. Some exceptions apply.

The Forward: Seth Rogen [a Jew] introduced Tom Cruise to [mostly Jewish] online porn

Meanwhile: Los Angeles production of "The Diary of Anne Frank" replaces "Nazis" with ICE [U.S. immigration enforcement] agents hunting for "Latin" illegals

Israel's intervention in U.S. elections "vastly overwhelms" anything Russia has done, claims Noam Chomsky – he says the media are deliberately ignoring vital issues such as climate change

Our dopey politicians: Manchester Arena bomber was "rescued" from Libya by Royal Navy in 2014. Salman Abedi went on to kill twenty-two in suicide attack last year

The Friends of Israel Initiative speaks on the desperate campaign to rescue Israel from the international Boycott campaign – these four self-proclaimed "Zionist agents" include "world famous historian" Andrew ("son of KFC") Roberts, and the no less wealthy lawyer Anthony Julius, who masterminded the "obscenely" costly ($13million) High Court libel defence of Deborah "Liar" Lipstadt (but who like her avoided actually speaking one word in court himself)

Russia Today (Russian source): South Africa to change its constitution to "legalize" taking away White farmers' land | South Africa plan to seize land from White farmers will be "catastrophic and could lead to anarchy and food shortages like Venezuela or Zimbabwe" — Fact: Whites were in South Africa long before the Blacks came down

The Remarkable Historiography of David Irving – "'Thus, they seemingly admitted that Irving's enormous corpus of historical texts was perhaps 99.9% accurate... I'm not aware of any other academic scholar in the entire history of the world who has had all his decades of lifetime work subjected to such painstakingly exhaustive hostile scrutiny."

Daily Mail: Now U.K. newspapers must agree to an arbitrator hearing libel allegations – "I can't wait," says David Irving, casually smeared and defamed by the journaille since 1963 as "Holocaust denier"

al-Jazeera: Amnesty International staff targeted by spyware made in Israel

Jewish Chronicle (UK): Jewish bankster Freddy David (left) jailed for six years after admitting £14.5 million fraud – "Your Honor, they can't help it. It's in their blood." We fear they may not get their hands on this gentleman before he heeds Hitler's prophesy and escapes to Israel | Michael Shannon, a Jew, writes The Last Word: Denial of Evil | House Speaker Paul Ryan "shocked and proud" to learn he's Jewish– like Madeleine Albright

Estonian politicians condemn Russian Embassy criticism of tribute to WWII battle – Battle was fought from July 25 to August 10, 1944

Mark Zuckerberg's stance on Facebook and Holocaust denial is "dangerous," says Trump appointee [Paul Packer, Jewish chairman of the "U.S. Commission to Preserve America's Heritage Abroad" ]

Israel National News: Dr. Manfred Gerstenfeld: "Waldheim's waltz" – from "Nazi" officer to Austrian president

Dunedin [New Zealand] "exposed" to "holocaust denial" literature in letterboxes says Otago Daily Times, without naming the book or its author

Red Arrows' RAF Scampton air base to be sold off – the base from which No.617 Squadron launched its heroic "Dambuster" raid

YouTube, record of a ten-minute dynamite speech by AfD's Alexander Gauland – Germany is abolishing itself (English Subtitles); Merkel looks a picture

American Pravda: The Nature of "anti-Semitism" by Ron Unz – a thought-provoking analysis of major studies, and the true "blood libels" which lie behind them

There were 1,112 Syrian "refugees" resettled in the UK in the first three months of 2018. The Home Office now admits that there was not a single Christian among them, reports Premier Christian Radio. The information came to light following a freedom of information request by the Barnabas Fund – a charity that supports persecuted Christians. – Is this a new Home Office policy? Who is the new minister? We, pre-"Windrush generation" English, won't forget you

YouTube: David Irving – Interview on Calgary Cable TV, 1989; before Canada banned him

Daily Telegraph: Corbyn ally accuses [Margaret] Hodge [née Oppenheim, Jewish Labour MP] of using Holocaust as "weapon" to attack Labour leader [Jeremy Corbyn] for "anti-Semitism" | Washington Post: Jewish teens enlisted to fight "anti-Semitism" in Germany

National Interest: Israel might have as many as 300 nuclear weapons. And some are in the "Ocean" – yet Israel still receives U.S. funding, despite never signing the Nuclear Non-Proliferation Pact, which forbids it

Newsday, USA: Former N.Y. State Assembly Speaker Sheldon Silver is sentenced to seven years for corruption. He asks for a delay from October 1 until October 5 as there are certain Jewish holidays to celebrate. (In the Federal prison at Otisville, NY he will find lots of fellow Jews with whom to celebrate.) (The original sentence in his 2015 mistrial was twelve years)

Middle East Eye: Israel's "Jewish nation-state" law is a prelude to annexation | Straight Talk About Zionism: What Jewish nationalism means by Dr Mark Weber

Jewish Link, NJ: Liar Lipstadt protests, Zuckerberg doesn't "get" "Holocaust denial" | Tablet Magazine (USA): Liel Leibovitz, shocked at fellow-Jew Mark Zuckerberg, whines that his Facebook still allows "Anti-Semitic," "Holocaust-denying" posts

Sputnik: Ex-UK Diplomat, Peter Ford, former UK Ambassador to Syria says, Israel has a record of "lying" about combat engagements

ejmagnier: President Assad: Israel has exhausted our patience, and Iran will stay in Syria as long as needed. But has President Putin saved Netanyahu from his "unsuitable ideas" towards Syria and Iran?

The Guardian: Israeli cartoonist fired over "Animal Farm" caricature of President Binjamin Netanyahu, because of how he acts, or he is dressed as a pig, which Jews hold to be unclean

Times of Israel: Israeli Police arrest eight French-speaking Israelis for scamming French businesses – it's in their blood, like pornography, scamming, fake diamonds, sexual harassment, and killing worthless goyim. "In the past decade, several hundred career Internet fraudsters from France have made Israel their home" – just as Adolf Hitler predicted in Mein Kampf | Daily Mail: Israel has become world leader in assassinations – its secret agents killed more people than any other nation since World War II, with some 800 operations in the last ten years alone

Paul Craig Roberts on Ron Unz: A Defender of Truth – "Wars are great producers of lies because propaganda is necessary to motivate soldiers to fight and to ensure that populations accept the associated hardships. The use of history as propaganda prevents us from learning from history. Thus, we continue to make the same mistakes."

Bloomberg: Slovak "Far-Right" Party Leader indicted for promoting "Nazi" ideology

Jewish Chronicle (UK): Labour councillor suspended over Facebook post calling for execution of Talmud Jews

Fortune: Emma Llansó comments: Facebook needs to clarify its censorship role

Mondoweiss: Philip Weiss says, Once again, Israel's influence outpaces Russia's – Putin was so considerate – He knows that the road to Washington runs through Jerusalem.

Independent (UK): United Nations bloc of developing countries elects Palestine as next leader, in snub to US and its "ally" Israel

Times of Israel: Ex-president of suspended Jewish frat [Ari Goldstein] to stand trial for sex assault – Temple University officials already suspended Alpha Epsilon Pi in April after three women alleged they were sexually assaulted at the fraternity house

news.com (Australia): Harvey Weinstein to blame that "Saving Private Ryan" lost Best Picture | New York Times: Les Moonves, CBS Chief, Faces Inquiry over sexual misconduct allegations – he draws an annual pay package of $69.3 million. They can't stop it

Sputnik News (Russian source): Hungarian Government warns immigration causing rise of "anti-Semitism" in Europe

National Post (Canada): Bronfman heiress Jewish sex ring busted | Sydney Morning Herald: More evidently Jewish pushers: Australians Chaim Goldstein and Dov Tenenboim, arrested in alleged NSW "dark web" drugs syndicate – Officers seized bitcoin worth $350,000 [how?] and $69,685 in cash, suspected to be proceeds, plus a diamond ring, mobile phones, and computers
Remember the innocent civilian stenographer, Heinrich Berger, and three others murdered on July 20, 1944: the day traitors, armed with British-supplied explosives, failed to kill Adolf Hitler | Deutsche Welle (German government propaganda source): Germany remembers failed Hitler assassination – "Adam von Trott zu Solz, an ally of von Stauffenberg, who developed a vision for a politically united Europe before his execution by the 'Nazis' in 1944." — Traitors: Von Trott, supplied by MI6, the British secret Service, with the time-delay detonators which enabled Stauffenberg to get away, and the Abwehr's Von Freytag-Loringhoven, to whom the British supplied the bomb's explosive. Two anglophile aristocrats, murderers
Ha'aretz: Croatia's national soccer team celebrates with a "Nazi"-supporting, "fascist" singer, dividing the country
Arab criminal clans dominate Berlin: Twenty Muslim families rule large parts of Germany's capital | Sweden teaching immigrants how to have sex with blondes
The Independent: As Jews, we reject the myth that it's "anti-Semitic" to call Israel racist
CBNC: President Putin says [unnamed] "powerful forces" are trying to damage US-Russia relations | Washington Examiner: Comparing Trump remarks at Putin summit with Kristallnacht is "form of Holocaust denial"
Just posted: David Irving presents his book Churchill´s War. volume 1 (1983) - and comments are already disabled for this video (by YouTube)
American Pravda: The Bolshevik Revolution and Its Aftermath, by Ron Unz
al-Jazeera: Steve Bannon "planning foundation" to boost "far right" in Europe
algemeiner (Jewish tidbits): Swiss politician says Hitler "can't have been so bad," sparks outrage – He didn't see Hitler as an evil tyrant; all nations that fought in WW2 had "blood on their hands" – but more and more people say that | Ha'aretz: Stalin killed more Ukrainians than Hitler killed Jews, says U.S. congressman– Thomas Keller said he believes "today's historical view of Hitler is rather one-sided" | A Texas congressman appeared to minimize the Holocaust – In 2009, Ukraine's security service named he killers, most names on the list were Jewish, as were the KGB officers who massacred the Polish officers at Katyn
BBC: Margaret [Oppenheimer] Hodge, Jewish Labour MP – stands by her "anti-Semitism" attack on [Jeremy] Corbyn
Slate opinion: The AskHistorians subreddit banned Holocaust deniers, and Facebook should too | New Yorker: How to get your child obsessed with Anne Frank and the Holocaust
Russia Today: Russian patriarch [Kirill] heads 100,000-strong procession honoring Romanovs' martyrdom – In the monastery, Patriarch Kirill held a solemn mass in honor of the last Russian monarch, his wife and children murdered by Jewish-Bolshevik executioners on July 17, 1918. "[Vladimir] Zhirinovsky said that Russia should get rid of any mention of the people complicit in Romanovs' killing, for example by renaming the whole Sverdlovsk Region (named after the Jew, Yakov Sverdlov, the first head of the Soviet government who had ordered the execution) the Urals Region."
[Daily Star, UK, Communist]: Moon landing conspiracy: "Nazi spacecraft beat NASA by 27-years" [fake news], and "fourteen banned pictures of Adolf Hitler have been unearthed"
Handelsblatt, Germany (German government propaganda source): Berlin warns Zuckerberg over Holocaust denier comments - The bullying Justice Ministry response. "The rationale is that a historical fact like the Holocaust is not open to denial or debate. Denying it is prima facie anti-Semitic and as such hate speech" | N Y Daily News: Holocaust denial is a form of hate — and the Jews never practice hate, do they
The Spectator (UK): Matthew Olex-Szczytowski says Hitler's would-be assassins were, themselves, "Nazi" war criminals; why celebrate them? — Szczytowski, that's a fine English name, starting with six consonants which are best left unpronounced | 1945 Admiral Dönitz announces "the Führer's" death
"Blood Libel," or historic fact? The UNZ Review: Israel Shamir: The Bloody Passovers of Dr Ariel Toaff – the son of the Rabbi of Rome and a professor in the Jewish University of Bar Ilan | Andrew Hamilton offers the most recent 2012 overview and Understanding Jewish Influence I: Background Traits for Jewish Activism by Kevin MacDonald
Facebook will continue to offer a platform to Holocaust deniers, CEO Mark Zuckerberg says. "I don't believe that our platform should take that down," continues Zuckerberg. "I don't think that they're intentionally getting it wrong" |
CNN: Deborah "Liar" Lipstadt's fury at Zuckerberg, gives a "historian's" opinion: his comments give Holocaust deniers an opening, she opines.
"Liar" Lipstadt [smirking, left, in hat] adds: "In 2000, when I was on trial [for three months] in London for libel, having been sued by David Irving – then one of the world's leading 'Holocaust deniers' – for having called him a 'denier' in one of my books, my defense team tracked all of his 'proofs' back to their sources and found that imbedded [sic] in each of his historical claims was a falsification, invention, distortion, change of date, or some other form of untruth. Once these lies were exposed, his arguments collapsed." – The presiding judge ruled in 2000 that Lipstadt was a liar, but still found for her, while denying her the [Hollywood-financed] $13million costs: go figure. We make no comment, but George Carman, QC, his notable senior rival, said that in his opinion that judgment was wrong, according to his son Dominic. Go figure
Deutsche Welle (German government propaganda source): "Anti-Semitic" online harassment in Germany on the rise, study finds
CTV News: Civil rights group says Canada should help Canadian citizen, a "Holocaust denier" [Monika Schaefer] in prison and on trial in Germany – Ontario Civil Liberties Association says it's concerned about Canada's apparent unwillingness to come to the aid of Schaefer, who was charged with violating a German criminal law that does not exist in Canada and is contrary to international law
YouTube: David Irving – Hitler, Himmler, and the Homosexuals
Nation-State: The Knesset passed July 19, 2018 a controversial bill that officially defines Israel as the national homeland of the Jewish people and asserts that "the realization of the right to national self-determination in Israel is unique to the Jewish people," with 62 lawmakers voting in favor of the legislation and 55 opposing it | US Jewish groups, ADL, furious at Jewish Nation-State Law
Ned Resnikoff "reveals" that Taylor Swift is Jewish, born Taylor Swiftovitz; but Wikipedia suggests Resnikoff was bamboozled; it finds no sign of any Jewish background. Or the Jews just want to damage her reputation – their favourite game — as she's worth an estimated $280 million, and we like her
USA Today: Germany hunts down aging "Nazi" killers still at large. "Finding these people has been one of the most satisfying results of my life's work," says Efraim Zuroff, the top Nazi-hunter of Simon Wiesenthal Center, who has hunted [93-year-old] "Nazis" since the 1970s. "When they're brought to justice, there will be no person happier than me". – Get a life, Efraim
Russia's last Tsar was executed [by police chief Yakov Yurovsky, a Jew aged 39] 100 years ago, July 17, 1918 | The Jewish Press: Genetic tests prove authenticity of remains of murdered Czar, [described as] a Jew-hater. Yes, the Jews murdered him, and his entire family, and tossed the bodies down an abandoned mineshaft
Israel National News: Poland honors satirist [Ryszard Makowski] who said Jews create anti-Semitism
Europeans Worldwide: Croatia vs. immigrants 1 : 0 – they're now universally called "migrants" by the controlled media – as though we won't know the reality from their tint
Huffington Post: Bill Browder responds to "ludicrous" Putin threat against him. As Browder notes, he gave up his U.S. citizenship and became a British citizen. That may not save him, if those clever Russians find out
Creeping censorship: Memorabilia auction houses introduce new "Marketing Standards" affecting just Wehrmacht or "Nazi" offerings – Guess who's behind this new hate? Essentially, Invaluable.com has adopted the eBay Blinders approach
Paul Craig Roberts: Is U.S. President Donald Trump a traitor because he wants peace with Russia?
Ha'aretz: Alfred Nobel's letters reveal his anti-Semitic, chauvinistic side – and his chauvinism, misanthropy, and crude "racism." Alfred Nobel, international famous founder of the eponymous Prize, wrote: "For 'them' it is 'self and family' – all others exist only to be fleeced. Perhaps they are right to act thus, but then they shouldn't be surprised if they are treated as they treat or want to treat others"
New York Times: How Israel, in dark of night, torched its way to Iran's nuclear secrets – but the secrets are at least fifteen years old Unloved? Unwelcome guests? 109 Locations from which Jews have been expelled since AD.250 – they should have had a Jewish lawyer
New York Post: How the woman who identified Hitler's dental remains [Käthe Häusermann] ended up in prison
news.com Australia: The downfall of maestro conductor [James Levine] accused of sexual misconduct – note accused, but not charged, i.e., innocent. – Jews too are innocent until proven guilty | Harvey Weinstein confesses: "I offered jobs in exchange for sex" – seems like Miss Swift omitted one of their sins
Who needs a Holocaust? Information Clearing House: U.S. Senate Committee approves AIPAC Bill to give Israel $38billion over ten years, plus additional perks | Ha'aretz: Germany increases funding for "Holocaust" survivors by $88 million
An amateur-made film of a visit to RAF Scampton's heritage centre, Part One – There are some Blacks in the party but guess what – no hysteria when they visit the dog's grave. We see the "Dambusters'" original wartime hangars, and the grave of 'Nigger' – Wing Commander Guy P. Gibson's pet Black Labrador, run over and killed outside the main gate on the same evening as his master lead the famous raid, May 16, 1943.
Times of Israel: Israel ranked 8th most powerful country in the world – Pride cometh, historically, before a what? – see Book of Proverbs, 16:18 in our preferred version, the King James version of the Bible
The Local: German charged [by French prosecutors] over making "Nazi" memorial in [private] French field [owned by a German]
Times of Israel: Accusations of "anti-Semitism" mounted against Polish priest [Cardinal August Hlond], readied for sainthood. The Simon Wiesenthal Center says making Hlond a saint would "further embolden" Poland's right-wing government in its "headlong efforts to selectively [sic] rewrite Polish activities from that tragic era." (Hlond's letter to somebody reads: "It is a fact that the Jews are fighting against the Catholic Church, persisting in free thinking, and are the vanguard of godlessness, Bolshevism and subversion." Correct. The SWC's point is ...?) Not many Jewish saints, are there?
The Jewish Chronicle, UK: Labour has shown "utter disregard for Anglo-Jewish community", says author | Jerusalem Post: Shocking misunderstanding: German police assault Israeli professor
The Forward: Think Ashkenazi Jews are White? Ask an "anti-Semite"
---
David Irving's brief expert conversation two years ago with the leader of Jewish archeologists finally excavating the Sobibór "Reinhard" site in Poland, where a hundred thousand Jews were processed in 1942. "The YouTube Team" has now sat our film, "Archeologists at Sobibór site: David Irving's Real History tour of "Nazi" sites in Poland," after a Jewish complainer protested on legal grounds. The YouTube team says: "We believe in free speech, even when that speech is unpopular or potentially offensive to some viewers, and "flagged videos whose content is potentially controversial or offensive may remain up, but with some features disabled," such as comments, sharing, thumbs up. Watch the brief video and go figure, as the Americans say; and the video is "also ineligible for monetization," whatever that means. The team's next message informs us of 35 well-known and otherwise civilised countries where the video has been completely banned, to protect them. Germany is not among them.
---
Ha'aretz: Israeli Defense Minister Avigdor Lieberman says that Israel should close its embassy in Dublin– after the Irish Senate passed legislation a day earlier boycotting products from [illegal] Israeli settlements in the West Bank

Watch YouTube: British historian [David Irving] convicted of "denying" the "Holocaust", sentenced to 3 years | Russia insider: Paul Craig Roberts: We need great historians like David Irving – our knowledge of WW2 is completely wrong

Aleksander Solzhenitsyn's last book, "200 Years Together – Russo-Jewish history" — pdf. (We are not aware of the identity of the translator, and ask him to contact us.) Jewish agencies are now trying to shuffle Nobel Prize winner Solzhenitsyn under the carpet, into the Memory Hole, which we at Focal Point can prevent. Sixteen years after its first appearance, an English edition of Solzhenitsyn's Two Hundred Years Together has yet to receive non-samizdat publication. – "Just a complete cohen-cidence that only one book ... hasn't been published in the West. Only a rabid Nazi" would see a link | Full text of "200 Years Together" in several formats | complete version , no omissions

YouTube: UKIP Chief Gerard Batten Blasts The European Union "EU is the legacy of 'Nazis'" – Times of Israel: Batten says shechita [Jewish ritual slaughter] is "a dreadful Dark Age practice" – and kosher meat is being sold to non-Jews to keep prices down

Daily Mail: Nigel Farage claims he'll return to politics if Brexit is delayed – The charismatic ex-Ukip leader tore into Theresa May's Brexit plans branding them a 'betrayal' | Farage's fascist past? Nigel boasted about his NF initials ...
and sang "gas them all" claims schoolfriend. Exclusive: 'I knew you – I remember your interest in the National Front | Nigel Farage warns he'll return to politics if Brexit is betrayed

The Unz Review: "American Pravda: Post-War France and Post-War Germany"– well worth reading, what happened in France after WW2 and even more in Germany; and a chilling review of the efforts of major British and American publishers to hide them, wipe a wet sponge over them, and what happens to any publisher (or author) who steps out of line | Kees Van Der Pijl speculates, "Why Was Malaysian Airlines Flight MH17 Shot Down?" - a complex story of geography, NATO, oil pipelines, and oligarchs

YouTube: Irving's Rommel part 1 of 2 (15,000 views so far; plus 70,000 hardback sales in Germany = one vintage Rolls-Royce Silver Shadow I for the author in late 1975, official color "n+gger brown" – not then politically incorrect)

Edmonton Journal: Paula Simons a "Canadian [journalist] of German and Jewish heritage", has already found Monika Schaefer guilty, commenting on a trial due to continue until August: that would constitute contempt of court in England

Ha'aretz: Israel's Black Cube [intelligence firm] campaigned against liberal Hungary's NGOs before election, says Politico says – Soon before Prime Minister Viktor Orban's election victory, a Hungarian magazine published 200 names of people funded by "billionaire philanthropist" George Soros to bring down the Hungarian government

Middle East Eye: On [former Israel Labor party leader, ] Isaac Herzog ["descended from Zionism's founding families"] in "horrid" remarks on Jewish Racial purity – "Herzog sees Jewish-Gentile families as a plague for which he hopes to find a 'solution'"

Ha'aretz: Worse-than/same-as Himmler's Gestapo? Well worth reading in full: Why is Israel still covering up "extrajudicial executions" committed by a Jewish militia [Haganah, the pre-independence army of Palestine's Jews] in 1948? The Israeli state cites security reasons and damage to Israel's foreign relations. — "The result is the falsification of history," says Yavne, the director of [Akevot Institute for Israeli-Palestinian Conflict Research]. By concealing such documents or preventing their publication, he notes, the state is blocking a discussion on serious events in the history of the Israeli state and society, including "war crimes perpetrated by IDF soldiers and defense officials over the years"| Exposed! and read this: How Britain's "anti-Semitism" scaremongers operate

New Complaint Against Ari Shavit: "He grabbed, tried to kiss me while I was dating his daughter"

inverse.com does not believe in Free Speech: "Why is Amazon selling this bizarre 'neo-Nazi' children's book?"

infowars: Germany: 33 year old immigrant from Niger decapitates baby in Hamburg, Germany; German government and police try to cover it up. Ugly proof of the Orwellian state in which Germany finds itselfJewish Chronicle: Praise for Adolf Hitler, and calling refugees "Untermenschen", from the members of Austria's governing Freedom Party – as reported by the Mauthausen Committee, and we can guess who runs it

The Tablet (Jewish source): How the Jewish Mob [Meyer Lansky, et al.] fought American admirers of the Third Reich– "While Jewish communal leaders in public evinced shame and horror at the gangsters because they epitomized 'bad Jew,' the evildoer who would bring hatred on the whole community. Privately they appreciated the mobsters who boldly took action against the [Nazis'] and 'anti-Semites'"

Ha'aretz: Commercial Israeli TV channels are refused membership in European Broadcasting Union – because Israel ain't Europe?| Israeli travel bosses charged with forming price-raising cartel on "Holocaust" education trips to Poland – it's making money, see? Millions

David Irving introduces Joseph Bellenger at the 1999 Cincinnati Real History weekend on "The Murder of Heinrich Himmler" (YouTube)

The Forward: The U.S. Anti-Semitism Awareness Act isn't what it seems – criticism of Israel, be it of its policies, laws or even existence as a Jewish state, is not the same thing as anti-Semitism | Sydney Morning Herald: Sydney Secondary College suspend students after "Nazi" salute, bullying | Jews slam Ron Paul as racist, "anti-Semitic" over cartoon posted to social media – he does not like Jews? (Ron Paul? That risks making "anti-Semitism" sociallay acceptable)

Times of Israel: They say it themselves: Don't let Israel become a Promised Land of impunity for crooks and fraudsters – "Only one in five suspected criminals is prosecuted in Israel, compared to three in five in other developed countries, according to a recent study by Israel's Finance Ministry" | just as Hitler prophesied in his Mein Kampf

Ha'aretz: Owner of Israeli soccer team arrested for tax dodging, money-laundering

al-Jazeera: Good luck with that: Europe is urged to exclude Israel from research fund – pension funds in Norway, Denmark, Sweden and the Netherlands have billions of euros invested in thirty-six companies involved in illegal settlement building activity in the West Bank and East Jerusalem

Daily Telegraph: Labour is responsible for rise of "softcore Holocaust denial", Liar Lipstadt says – but note how respectful the Telegraph is of historian David Irving, because they are in the jurisdiction, and he has an open libel dossier on them too

New York Times: Unwelcome sound on Germany's stages: musicians – those who Boycott Israel (BdS), that is

World Israel News: Distorting the Holocaust - at the U.S. Holocaust Memorial Museum? Dr. Rafael Medoff on how to distort history: he says, "There are all kinds of ways to convey a biased message. You can omit important information. You can use particular language to soften the impact of a quote. You can play up an angle that you prefer, and downplay the aspects that don't support your position." And this historian-cum-military-strategist adds: "Liberty ships that brought troops and supplies to Europe, and then returned empty to the United States, could have been used to bring back refugees [From?]. Or American planes that were already bombing the oil factories at Auschwitz could have dropped a few bombs on the nearby gas chambers, or the railway lines leading to the camp" – Hmmm

Latest letter from Germany's Canadian prisoner, Monika Schaefer | report on Day 1 of the Monika Schaefer trial, July 2

Times of Israel: Woman wanted for [sex] abuse in Australia [now safe in Israel] accused of molesting Israeli Jewish girl. "It's Sodom and Gomorrah in Emmanuel," says the girl's father, referring to the ultra-Orthodox [and illegal] West Bank settlement, "Child abuse, pedophilia … it's rampant." | And read: Sydney Morning Herald: A haven for pædophiles: The ultra-Orthodox settlement where [she] hides | Just as Hitler prophesied in his Mein Kampf

Ha'aretz: Top Israeli historian Yehuda Bauer, 92, says Netanyahu's deal with Poland on its "Holocaust" law is a betrayal that hurts Jews
What, us? JTA: Cnaan Liphshiz [sic] says, "Ukrainian general General-Colonel [Anatoli Matios] implies that Jews want bloodshed in Ukraine": Simon Wiesenthal Center is outraged. Matsios said a communist Jewish theoretician, Alexander Parvus, a billionaire arms dealer, "drenched Slavs with blood for decades." "There is always a Parvus. They want to do the same to Ukraine." – So, Mel Gibson was right all along? It's all about money: New Jersey town will pay $1.25 million to Jewish employee in "anti-Semitism" suit
Times of Israel: German prosecutors considering trials for three aged members of SS firing squads — they allegedly acted at Babii Yar in the Ukraine. Let's hope war-crimes trials for the Israeli snipers who killed Palestinian protestors will shortly follow, or will they plead superior orders?
Times of Israel: Notorious Dog and Pony team hits the Lucrative Lecture Circuit again: Hundreds forced to hear from Liar Lipstadt at HET's annual conference – the "Holocaust Educational trust" (HET), run by pædophiles, which agitated unsuccessfullly to stop Macmillan Ltd publishing Hitler's War (because it told the truth). One "Trust" member, a non-Jewish English historian, resigned in protest at their underground activity
Reuters: Israel will not accept any Syrian refugees on "its territory", says Defence Minister Avigdor Lieberman
Sad news is revealed: Daily Mail: Death at 88 on May 24 of Gudrun Himmler, daughter of the Reichsführer SS who met an unsung brutal end (beaten to death) in May 1945. He called her "poppet". She remained fiercely loyal to her father's memory for 73 tears. It all gives Mail journalists the opportunity for more lies anyway ("Holocaust denier") – and to print more "Nazi" photos. Left, Gudrun with her mother, Marga, in 1942; the little boy was an orphan adopted by Himmler — his father murdered by communists in Berlin | Reuters | The Independent | Focus | Der Spiegel | Daily Telegraph | Sydney Morning Herald
The Forward (a Jewish source): Nigel Farage to attend Pennsylvania Congressman fundraiser
undark: Professor Kevin MacDonald and the Elevation of "Anti-Semitic" Pseudoscience – it is called a "pseudo-science" because it addresses the "Jewish problem"?
N.Y. Post: American-Israeli teen Michael Kaydar [tried in Israel after fleeing there] convicted of making thousands of bomb threats – but also faces twenty years sentence in USA
Ha'aretz: Why British Jews are so depressingly deferential to the royal family: Although we know "these people" are endemically disloyal to host countries? – "It was Elizabeth's ancestor, Edward I, who expelled the Jews from England in 1280 [sic. 1290] ... for four hundred years, until Oliver Cromwell — One Royal message from mid-1939 has emerged: In 1939 H M King George VI's private secretary wrote the Foreign Secretary [Anthony Eden] that the King was concerned "a number of Jewish refugees from different countries were surreptitiously getting into [British-mandated] Palestine," and that he was "glad to think that steps are being taken to prevent these people leaving their country of origin." The "country of origin" the Jews were trying to flee was of course Nazi Germany, and on King George's orders the Foreign Office asked the Third Reich "to check the (Jews') unauthorised emigration."... They included Israel's later prime minister Menachem Begin from Lithuania, whose Irgun blew up the King David Hotel in Jerusalem killing 79 innocent travellers. – The Times columnist Daniel Finkelstein, now Lord Finkelstein of Pinner, wrote in 2014 in the Jewish Chronicle that, "My grandmother used to say: 'While the Queen is safe in Buckingham Palace, we're safe in Hendon Central [a Jewish ghetto].' This is a rather good summary of my political philosophy." Yes, the British Government now turns a blind eye on its archive files on active Jewish terrorism throughout the last century and this. We never forget, it was Jews who cruelly murdered the entire Russian Royal family in 1917.
TMZ: Ron Jeremy [Jewish "porn" mega-star; mother: Pfefferman] sued for sexual assault and battery in Washington State — after police decline to prosecute. AWPOW*

BBC Polish Government U-turn on jail threat; but civil offence remains, namely for accusing Poland of complicity in "Nazi" war crimes – "The Polish law has angered many 'Holocaust' survivors in Israel and worldwide." AWPOW*
Daily Beast: "Nazi Sympathizers" pushing to take over Europe's spy agencies. "French President Emmanuel Macron last week likened the rise of such populists to leprosy all across Europe," ignoring for one moment the hurt he will cause to lepers with such remarks
U.S. News: Prince William, Britain's future king, brings to Israel message of homage, hope on first visit | U.S. National Public Radio (NPR): Sara Netanyahu, Israeli Prime Minister's wife, is charged with $100,000 fraud – that's nice, the same day that Prince William, the future king of England called. The English media are polite enough not to mention it
Kleine Zeitung (Austria): Hitler-Geburtshaus wird auf 1,2 Millionen Euro geschätzt - Hitler's (government–requisitioned) birthplace is now estimated to be worth 1.2 million euros
Christopher Cantwell: Who's behind the race-mixing agenda in [global] advertising? – "The mass-marketing of interracial relationships, particularly White women with Black men ... [people] have begun to notice" – Statistics on, results, diseases, violent crime etc. Further, "HLG Studios ... behind the production of the three commercials. ... founded by Yuri Baranovsky. Baranovsky is Jewish" – no comment, lest we be accused of "anti-Semitism" | TMZ: Ron Jeremy [Jewish "porn" mega-star] sued for sexual assault and battery in Washington State — after police decline to prosecute. AWPOW*
Canadian Professor accused [by Jews] of "Holocaust denial" blames Jewish families for the "Islamophobia Industry"
On the Laws that Prohibit "Holocaust Denial" – "In final analysis, the laws as they currently stand are misguided. They infringe on free speech, the essence of which is the protection of even the most disagreeable opinions"
Jewish Telegraph Agency (JTA): Israeli embassy in [2018] Spain brings up the [1492] Inquisition, implies that Pamplona's anti-Israel resolution is rooted back there, in the 15th century (and has nothing to do with modern Israel's killings of Palestinians). "Jews were expelled from what is today the Spanish state of Navarre as the Inquisition started a campaign against [Jews]"
Your Sunday chuckle. JTA: NY–Israel flight delayed by ultra-Orthodox Jewish men's refusal to sit next to women – no comment, lest we be accused of "anti-Semitism"
Late news: Supporters desert "Labour Friends of Israel" – not friends now, never were
CONTINUED ON PAGE 2 | and ARCHIVE

* ASSHOL: Association of Spurious Survivors of the Holocaust and Other Liars | * AWPOW: Are we powerful or what!

OUR FRONT PAGE NOV 10, 2005: MR IRVING KIDNAPPED, JAILED IN AUSTRIA
Quick navigation

> contacting David Irving
> a two-minute casca. Nde
> photos of David Irving
> latest copyright-free photo of David Irving (1.2MB)

Our hope is for $3,000 each month. This month from regular donors $360, and others, and fromTL of Illinis, $25 and $30, and from DS of Toronto, $25, SH of Waco, TX, $15; DB, Sacramento, Calif., donates $50; and JC from Sacramento, Calif, gives $200; JB of Brisbane dnoates $50.

Mr Irving sends warm thanks to all these good friends.

»»

Click if you prefer to make a regular monthly contribution

---
Luftwaffe vzestup a pád © David Irving 1973. Život maršála Luftwaffe Erharda Milcha.
Czech translation © PhDr. Ivo Pospíšil, Csc.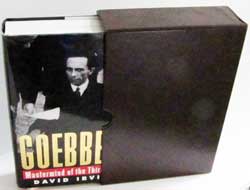 "GOEBBELS" IS NOW BACK IN PRINT: "I've been enjoying your Goebbels biography," writes Michael Zarowny. "Thank you for your extraordinary efforts to keep the text in print. The book is of a higher paper and binding quality than the standard publishing house text!"
Customer feedback from David B in Decatur, Georgia: " A while ago, I ordered "Hitler's War", and to my surprise, you signed it. Thanks!."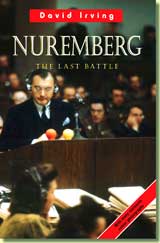 THE VIRUS HOUSE
David Irving's 1967 pioneeering account of Hitler's atomic bomb project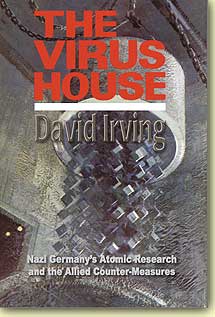 First published in 1967, and serialised by The Sunday Telegraph, Der Spiegel, and newspapers around the world. Said Nobel prize winner Professor Werner Heisenberg: "Irving's book is very good - it gives all the facts."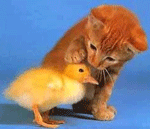 THROUGHOUT 2018:
Remember the writers and historians jailed in Germany, Austria, and elsewhere in the New Europe and even banned from visiting many countries in the British Commonwealth and "free world"