David Irving's daily newswatch on History and Human Rights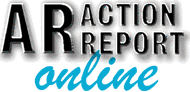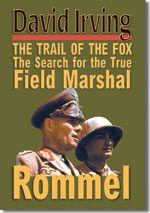 »» Trail of the Fox: "Verräter, Vorbilder, Verbrecher?" German conformist historians publish article accusing David Irving of falsifying history on the famous field marshal. Whatever next?
»» Mr Irving's flagship book Hitler's War, 1000 pages, is now available in a magnificent new edition – same text, but with many more photographs including unseen colour . CLICK HERE TO ORDE
---
Memorabilia news Hitler's top hat and Eva Braun's dresses among Nazi memorabilia to go under the hammer at Munich auction house– Daily Mail | European Jewish leader calls on Munich auction house to cancel sale of Nazi memorabilia, "Some things simply should not be traded"– EJPresss

Rabbi in hot water Lenient sentence for New Jersey Rabbi [Osher Elsemann], convicted of money laundering, was illegal, AG's office says in appeal– Convicted of money laundering to pay off a personal $200,000 debt, while running a Lakewood school for children with developmental disabilities | Refusing bail, U.S. judge deems Jewish binary options fraudster [Lee Elbaz] a flight risk. Times of Israel

Tinker Tailor Soldier Fascist John Le Carre [born David Cornwell] trashes Jeremy Corbyn– Daily Mail. The usual Gang are getting worried. We did not realise that they were Jewish or pro-Jewish. Le Carre's father, jailed for insurance fraud,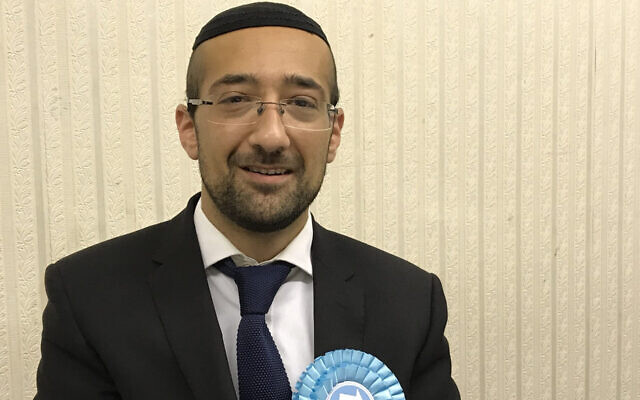 was an associate of the Jewish Kray twins, and Le Carre published a 2017 attack on the Polish and Hungarian governments for "fascism". He has taken an Irish passport; qualifying through his grandmother Olive Wolfe who was born in Rosscarbery |
You'd never know An Orthodox Jew (left) is running for Jeremy Corbyn's parliamentary seat– Times of Israel. Yosef David, "a London social worker," [i.e., a parasite] is standing as a candidate of right-wing Brexit Party...
What's the Australian for Brainwashing Keeping Holocaust history alive for today's students–Sydney Morning Herald. "Holocaust" brainwashing for kids. Duane Galle, a history, received a scholarship to travel to Israel with 25 other Australian teachers as part of the Gandel Philanthropy Holocaust Scholarship Program for Australian Educators. The program is aimed at developing Holocaust education in Australian schools | Jordan "Holocaust denial" conference report, in French
Owner of Belgium's "'Nazi' house" faces year in jail– Daily Telegraph


Carleton University, Ottawa Trouser-wearing "Historian" Deborah Lipstadt, now mysteriously a red-head, speaks at Carleton Univ., Ottawa, Canada, and tackles "anti-Semitism" and "Holocaust Denier"– [Liar] Lipstadt has battled deniers before. She is well known as the target of a [three-month] libel suit brought by David Irving ... in 2000 and wrote about the events in History on Trial: My Day in Court with a Holocaust Denier [She never spoke a word. Some battler.]
R.I.P. Schindler's List producer Branko Lustig dies at 87– Daily Mail. Lifelong promoter of Anti-fascism and Tolerance, also had another amazing "Holocaust survival" story; no wonder Lustig became a Hollywood Icon and Spielberg collaborator
Far reaching NASA renames distant ice world, after "Nazi"-link controversy– Deutsche Welle. Warning: Deutsche Welle is a propaganda outlet of the puppet German government
Caught red handed, but doing what? '"Those are his fingers": Jeffrey Epstein victim hits out at Prince Andrew's photo excuse– News.com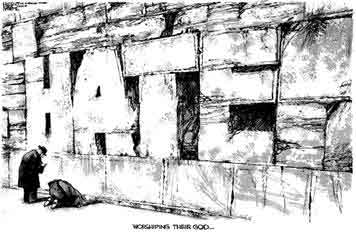 Not a child this time [Jewish film director] Roman Polanski slips out of his latest film premiere via stage door days after renewed ancient rape allegation. Daily Mail
Surrendered, then hanged Draft of the historic WWII surrender agreement is on sale for $3.5mil– Daily Mail. Read how Eisenhower, the hero of Other Losses, obtained the signatures of real heroes like Colonel-General Alfred Jodl, whom the Americans hanged at Nuremberg
Strip the masks off Products from Israeli settlements must be labelled, EU court rules. European court of justice says origin must be identified, in decision likely to anger Israel– The Guardian. We have seen such products labelled "Made in California" like Harvey Weinstein, to disguise their origins
Murder in Palestine Israeli troops kill [murder] West Bank Palestinian in al-Arroub refugee camp, in the illegally Israeli-occupied West Bank on November 11. U.N. demands probe– Reuters | Israeli policewoman "shoots [different] innocent Palestinian in the back for fun"– Daily Mail | Palestinian shot in back says Israelis abused him for hours
Says Mr Bloomberg is ... Jewish Rep. Ilhan Omar faces fresh accusations of "anti-Semitism" over Michael Bloomberg tweet– Newsweek
This squabbling makes Australians "anti-Semitic" Nickel tycoon's family dramas put $110m estate in limbo– Sydney Morning Herald
How they do it How the Jew whom Hitler [so unfairly] blamed for Kristallnacht outsmarted his captors– Mosaic magazine. Herschel Grynszpan murdered a German diplomat, at the behest of his French handlers, then told police a lie about his sexuality. It's "smart" for murderers to claim they're homosexua
But why is it rising: Weinstein, Epstein, any other Stein? Ahead of 81st "Kristallnacht" Anniversary [yawn], top US Jewish group calls for action against rising global "Anti Semitism"–algemeiner. Many people have contemplated leaving Belgium because of rising "anti-Semitism," Schwammenthal said
---

CLICK below for complete 30pp interactive descriptive Catalogue of all David Irving's books so far — both available and as work in progress

[Bookstore: buy them here]

---

Awkward questions Researchers At Holocaust Denial Conference in Jordan: Jews were not systematically murdered in "Holocaust," Final Solution was to expel Jews due to their Destructive Influence– memri. "Where did the tons of ashes from the furnaces go? Where are they? Is there nothing left? The bodies flew away? The gas chambers flew away? No evidence is left in the furnaces? No bones, no bodies, nothing? This does not make any sense"

Danger The danger of banning "Holocaust denial"– Spiked. "Historian David Irving who, in 2000, mounted an unsuccessful attempt to sue American historian Deborah Lipstadt, after she had accused Irving of denying the scale of the Holocaust. As Richard J Evans shows in his 2002 book Telling Lies About Hitler, Lipstadt successfully used her reason to prove that Irving was wrong." In fact Liar Lipstadt did not speak one word

Surely no comparison Labour election candidate Kate Ramsden quits after comparing actions of Israel to a child abuser– Daily Mail

Crooked hoarding banksters Israel's Bank Leumi is hoarding up to $118 Million of "Holocaust" victims' money– algemeiner | When 'Finance' becomes a code word for Jewish– Tablet Magazine. "Here, even [Elisabeth] Warren supporters should pause at ... language that compares bankers to parasites... long a staple of anti-Semitic scapegoating" | Trial opens for Jewish-American woman charged in $145 million fraud scheme — evidence will show that an Israeli woman [in Maryland] oversaw a "massive" scheme to defraud tens of thousands of investors across the globe out of tens of millions of dollars

Tail wagging dog New head of German-Israeli Association (DIG) wants Frau Merkel to sanction Iran, Hezbollah– Jerusalem Post. Dr. Efraim Zuroff, [obese] chief Nazi-hunter for the Simon Wiesenthal Center, accused the Friedrich Ebert Foundation of appeasing an Iranian Holocaust denial institute that works with the global Nazi movement. "It is incomprehensible how it could invite a person that works for an organization that organized a Holocaust denial conference," Zuroff told the Post

How television's owners lie ABC host says [Jeffrey] Epstein story was killed in 2015– News com, Australia | Famed pathologist Dr Michael Baden says Epstein's death was homicide– New York Post | autopsy more consistent with homicidal strangulation than suicides– Fox News| Epstein's injuries look more like murder than suicide, noted pathologist says—Sydney Morning Herald | New Secrets in the Prince Andrew—Jeffrey Epstein Relationship– Several now-censored reports from the 1990s and early 2000s reveal that Prince Andrew's involvement with the minors exploited by Jeffrey Epstein is deeper than previously believed

And the common factor is ...? Ronan Farrow's producer on how NBC killed its Weinstein story: How top NBC brass, news chairman Andrew Lack and news president Noah Oppenheim, bowed to Harvey Weinstein

FDR's bigotry Historian Rafael Medoff (right): New evidence shows FDR's bigotry derailed many "Holocaust" rescue plans– Times of Israel. FDR warned that "they can't be trusted, they won't ever become fully loyal Americans, they'll try to dominate wherever they go"

Men dressed as Jews Men dressed as Jews handed out Holocaust denial fliers at Colorado mall– Jerusalem Post. The men, who wore large white kippahs and tallesim, or prayer shawls, also hung notes on index cards that claimed "Academia is dominated by Marxist Jews," "Jews run the porn industry" and "Jews ran the Atlantic slave trade"

NATO member honouring "traitors" German army honors member of treacherous White Rose– That is the new minister of defence, Ursula von der Leyen. Warning: Deutsche Welle is a propaganda outlet of the present puppet German government

Jews don't like him, which is a plus American Jewish Congress blasts Bernie Sanders' [Arab] surrogate Linda Sarsour– New York Post

Palestinians' for example Liar, Deborah Lipstadt (in glasses, left): Take anti-Semitism seriously "not just when there are dead bodies"– Times of Israel.

Porn Lords Al-Jazeera's Midan Voice Internet Channel: Jews created and control the Porn industry in order to pollute American and Christian Values– memri

Promises, promises Poll: Nearly half of British Jews say they will "seriously consider" fleeing if Jeremy Corbyn is elected prime minister— National Review

Survivor bleating Vatican, Jews criticize Italy's Right for snubbing "anti Semitism" committee– Jerusalem Post. Committee put forward by "Holocaust" survivor and life senator Liliana Segre, in response to abuse hurled at her on social media

A Jewish interpreter talks Hitler's Teeth– Tablet Magazine

Just when you thought the sea was safe Liar, Deborah Lipstadt at Ha'aretz Judaism conference: Israeli government "sold out" memory of the Holocaust– Ha'aretz. Lipstadt, "one of the world's leading historians of the Holocaust and the history" | Visiting "Holocaust historian" [Liar, Deborah Lipstadt] delivers lecture on "anti-Semitism" – The Tufts Daily. Uh, how many books on the "Holocaust" has she published? (None)

Hid his Jewish identity The ex-gangster in Berlin who hid his Jewish identity– Deutsche Welle, which is a propaganda outlet of the puppet German government

Another name from the past Lawyer [Anthony Julius ] for Princess Diana and Deborah Lipstadt advising Netanyahu on criminal cases– Times of Israel. Like Liar Lipstadt, Julius never spoke a word in court

Key Witness Alexander Vindman, a Jewish military officer born in former Soviet Union and director for European affairs at the National Security Council, appears to be a possible key witness to events surrounding Donald Trump's interactions with Ukraine. He attended President Volodymyr Zelenskiy's ( a fellow Jew) inauguration. | Republicans accuse Colonel Vindman, a Jew who "fled" Soviet persecution [at 3], of dual loyalty– The Intercept

Tiny tail wagging dog Jewish community [in Tasmania] calls for an end to "perverse" Nazi auctions– Daily Mail | Sydney auction house under fire for selling "sinister, grotesque" Nazi memorabilia– Oops, the auction house is owned by Colin Vickers, whose mother was a German Jewess. He calls the Jewish "advocacy group" Anti-Defamation Commission "Nazis" | "British" Holocaust education group (HET) calls for review of "Nazi" memorabilia sales | Belfast auction house cancels "Nazi" memorabilia sale after outcry from Jewish leaders

Breaking news Belgium's first female prime minister [Sophie Wilmès] is [a hidden Jewess]– The Jerusalem Post. "Wilmès' mother is Ashkenazi Jewish and lost several relatives in the Holocaust,' Philippe Markiewicz, the president of the Consistoire organization of Belgian Jewry, confirmed to the Jewish Telegraphic Agency. "She hid her Jewish identity". Why?

He brought peace to Spain General Francisco Franco exhumation: Dictator's exhumation stirs fury in divided Spain | Spanish judges unanimously back Franco's exhumation.– BBC. Not mentioned: Unlike the so-called "democracies," Franco gave his country forty years of peace

What Jewish values? Pornography? investment banker at Goldman Sachs's New York branch arrested for his involvement in an insider trading scheme that generated $2.6 million– Bloomberg | U.S. Republican Party seen as the party of "Jewish Values"– Times of Israel | U.S. Jewish sex offenders list– Brooklyn based jewishcommunitywatch. Legally, all suspects are presumed innocent unless proven guilty by a court of law | Influential Israeli rabbi sentenced to four years in prison for sexually assaulting three sisters, aged 8, 12, 14.– Ha'aretz | Malka Leifer's case is shaking the Australian community's faith in Israel– The Guardian | Israel's supreme court overturns ruling to release Malka Leifer– The Guardian | Former Orthodox Jewish youth leader extradited over Bondi sexual assault charge– Sydney Morning Herald

Third generation? Witness? Is that possible? Grandson of "Holocaust" survivor bears witness as former "Nazi" guard goes on trial– CBC Radio | Lithuania's Past, Antisemitism, and Israel– algemeiner. In 2016, Ruta Vanagaite and Efraim Zuroff published a book Our People. Despite its success, the publisher recalled it from bookstores a year later after Vanagaite commented that Adolfas Ramanauskas, a revered Lithuanian, had agreed to be a KGB informant. (She also revealed that she had a personal relationship with Zuroff, a well-known Nazi hunter despised by Lithuanian nationalists. "They called me a pro-Putin Jewish whore," Vanagaite said in an interview with The New Yorker.)

They don't like it up 'em, do they Arutz Sheva op-ed attacked by "Holocaust Denier" David Irving– Israel National News. U.S. General Wesley Clark also praised our famous Rommel book | We put a "Nazi" general on a pedestal and wonder why we have "neo-Nazis". a Jew teaching English in USA wipes his filthy hands on the Rommel legend– Israel National News

She's some scholar New York Times Opinion, says Deborah E. Lipstadt: Peter Handke [is] an Undeserving Nobel Laureate – "Holocaust scholar" Lipstadt (right) takes issue with a column by Bret Stephens. Perhaps she will explain why she spoke not a word in the twelve weeks she sat in the London High Court in 2000, and why the Judge unusually refused to allow her costs, which amounted to many millions of dollars?

The Liar Speaks, after Years of Silence As Deborah E. Lipstadt's career shifts, she's set to speak here – a "Holocaust scholar," who's never published a single book on the "Holocaust" (is it as phoney as she is) | Using Art to Talk About the Holocaust in 'The Evidence Room' – If Robert van Pelt wants to believe it, let him. He lied for Lipstadt in the London High Court and demonstrably perjured himself

Appeal for Jewish cop-murderer's life Jewish Groups including ADL (photo) rally around [Jewish] Death-Row inmate who pleads trial Judge was "anti-Semitic". Randy Halprin was one of seven men who escaped from a South Texas prison in December 2000 and went on to commit several robberies, including a Christmas Eve crime in which a police officer was killed. Four members of the gang have already been executed, the fifth killed himself before he could be recaptured, and the sixth is also to be executed this year – Huffington Post. Normal people might think Halprin has already lived nineteen years too long | Jews call to halt Death-Row inmate's execution, citing, yawn, "anti-Semitism" – Jerusalem Post
More fake news The Fake Nazi Death Camp: Wikipedia's Longest Hoax, Exposed– Ha'aretz
For over 15 years, false claims that thousands of Poles were gassed to death in Warsaw were presented as fact
Pardon me, I'm a drug Jewess Israel's President Rivlin seeks pardon from President Putin for Jew imprisoned in Russia on drug charges– Ha'aretz, Naama Issachar has both Israeli and American citizenship. She was sentenced to seven and a half years in prison on drug-related charges. Israeli officials believe Issachar's dual citizenship is among the reasons she was targeted by the Russians
Kangaroo court coming Backbencher Barnaby Joyce calls on Australia to help Julian Assange— The new daily
Voices from the Grave Recordings from Nuremberg trials of Nazi leaders to be made public – The Times of Israel. We listened to the tapes in the 1960s and were shocked to find discrepancies (answers changed Yes/No, or even omitted), between the actual recorded sound, the initial transcribed version, and the printed blue volumes which can't therefore be trusted. Field Marshal Milch, one of the defence witnesses, first drew our attention to that, and we visited Washington DC and heard the tapes for the first time
Special horses, special courses "Holocaust denial" in a parliamentary speech: criminal conviction found not breach of Article 10— UK Human Rights Blog
Pending disposal Himmler's Aides in POW Camps: World War II (1945)– Thank You, YouTube
Catch us if you can Vandals scrawl Nazi swastikas on graves and kick over dozens of headstones at war cemetery in Israel– Daily Mail. One clue is that the Swastikas are always drawn the the right way, so the culprits are likely the "usual suspects". Mr Irving offered a cash reward for their arrest when the same thing happened in New Zealand in 2004 | Jewish extremists in Israel deface Australian, British and Commonwealth WW1 graves with "Nazi" swastikas
Nowhere they can flee to Israel: Netanyahu's wife Sara Netanyahu fails to attend court in abuse case hearing | Ashkelon community shocked to find criminals living among them– Jerusalem Post. "[Israel], a haven for criminals, a university for budding crooks…" Just as Hitler predicted in Mein Kampf

I'm a Jew, can't touch me Jewish death row inmate given stay days before execution over judge's "anti-Semitism"— Jewish Chronicle (UK)
Ehrenburg— a name long forgotten Soviet Propaganda Movie Auschwitz Liberation: Aufnahmen: Filmtrupp der ersten ukrainischen. Topics: Auschwitz, concentration camp, propaganda, movie, red army, Soviet, Ilja Ehrenburg, atrocity propaganda, prisoners, children, second world war, Nazi, camps. Uh, is there something important missing, that we're always told about?
An Interesting newsreel "Auschwitz Concentration Camp Reel 1 (1945)"— evidently soon after its "liberation" by the Red Army in Jan 1945. The silent Pathé newsreel, unissued, 4 mins., is worth studying closely – it shows lots of well-wrapped people and children, all seemingly well fed, women visitors in fur coats, several (Catholic) nurses in uniform, an anonymous glimpse of the familiar pancaked roof of Crematorium II with somebody trying to poke holes (for flowers, there were no "holes", as Auschwitz expert Van Pelt admits); but no "gas chambers" are shown – that is a 1970s legend – which is no surprise in the circumstances; the old watch-towers are in place, but the famous main gate of Auschwitz I is different. Thank you, YouTube
Hatred exploited "Jews exploit Poles" report leads to massive online hate (right) in Poland– Jerusalem Post. That's one thing that anything online can't be, massive. The internet has no mass
How they rush around – like Poland, 1938 Spain gets 127,000 citizenship requests from Jews– BBC. A deadline for Jews living outside Spain to request Spanish nationality has expired; 127,000 applications, 20,000 from Mexico, most of them from Latin America
"Beware of parasites" Anti-Semitic posters put up in Warsaw ahead of elections– Times of Israel. Disgraceful "anti-Semitic" posters put up in Warsaw — with images of Israeli diplomats [including] U.S. Ambassador to Poland Georgette Mosbacher, former Israeli ambassador Anna Azari, Poland's Chief Rabbi Michael Schudrich, and London-born Israeli activist for Holocaust commemoration Johnny Daniels
What the butler saw, perhaps Epstein's butler dishes on Paris-pad guests including Bill Gates, Steve Bannon. Yes, any more lucrative big names worth peddling stories about?

Emotional moment Holocaust survivor cousins who thought each other had been killed by the "Nazis" are reunited after 75 years. Yet another incredible story for Stephen Spielberg

Berlin's Jewish Problem, Pt.2 Berlin has "serious 'anti–Semitism' Problem" says City Commissioner, as new statistics reveal over 400 incidents targeting Jews in first half of year– algemeiner
How about this gesture? (demonstrates) The OK hand gesture and bowl-cut hairstyle are among the new entries in a Jewish group's hate-symbols database | New list of "white supremacist" memes, symbols and slogans added to ADL guide– Jerusalem Post
Mustn't call them hook-nosed "Why is it that I can't say something against the Jews?" Malaysia's leader asks at Columbia University– Jewish Telegraphic Agency | Columbia (NY) catches Flak for inviting "anti-Semitic" PM [Mahathir Mohamad], who insists Jews rule the world by proxy | A defiant Malaysian PM defends his "anti-Semitism" in the name of free speech– Times of Israel
Curiouser and curiouser Meet the militantly pro-Israel U.S. official directing the economic war on Iran, by Max Blumenthal. "Asked by The Grayzone if she currently holds Israeli citizenship, and if so, whether she was given a special exemption that allowed her to obtain a security clearance, the US Department of Treasury did not reply"
Up to their old tricks U.S. Marshals apprehend fugitive accused of scamming veterans. Authorities have taken Scott Kohn into custody for an accused "billion dollar Ponzi scheme" that targeted vulnerable veterans (Kohn is innocent until proven guilty in a court of law)
"Holocaust" eyewitnesses The Jews' testimony, contradictory, shifting, and evasive, is protected from questioning to justify the genocide of Germans | "Mrs. Maisel" star describes how her grandma survived Holocaust, while dedicating her Emmy to the "strength of a woman"– The Hill. Some "genocide," another survivor | The first Austrian to be sent to Auschwitz dies at age 106 | Oldest Austrian "Holocaust" survivor dies
Hunting Heisenberg Capturing Germany's Atomic Secrets: based heavily on David Irving's The Virus House, without acknowledgement; but adding excellent colour film of the Alsos mission
SS troops were "slightly" miffed "Ex-Nazi" SS soldier facing charges over deaths of 86 French people has died aged 96 | Former SS soldier who blamed Nazi victims for their own deaths dies aged 96 – ( SS Division "Hitler Youth" acted, after Resistance "slightly derailed" a troop train)
Historic newsreels Mayday 1938 in Berlin, and Hitler leaves for state visit to Rome, May 1938. That man was visibly popular. | Hitler Acclaimed At Youth Rally (1938); and Hitler in Berlin (1936). No bomb proof, gas proof, missile proof limousine needed for this man . . . unlike the pampered EU statesmen of today, in their S-Class Mercedes armoured automobiles. Thank You, YouTube
Keeps on giving Miami "Holocaust" survivors urge Congress to let them sue European insurance companies | "Holocaust survivor" asks U.S. Senate to help recoup insurance money of murdered relatives — New York Post. Mermelstein, Mermelstein; where have we heard that name before? Not Jewish lightning, anyway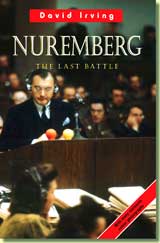 Faking the truth Newsreel: German Troops March Into Austria (1938). ThankYou, YouTube. – The scenes of immense crowds welcoming Hitler were deleted from the film produced for Nuremberg by the OSS, "in all of which flag-waving, smiling faces ... help to nullify our notion that by these acts the [Germans] were planning or waging a war against their neighbors" »» see our book Nuremberg, The Last Battle
"Nazi" ruins The Colossus of Prora, on Rügen island: From "Nazi" ruin to holiday resort - Warning: this superb holiday resort on the Baltic for 20,000 was built pre-war by the union-backed KdF, a typical Adolf Hitler terror organisation. Warning: Deutsche Welle is a propaganda organ of the puppet German government
Or try behaving better Anti-Semitism envoy reveals new U.S. "inter-agency process" to tackle growing Jew-hatred – "Holocaust historian, author, and professor" and Liar Deborah Lipstadt kicked off by talking about the increase of anti-Semitic attacks, saying, "I'm not sure if there are more anti-Semites today or the anti-Semites feel more embolden [sic] and freer to say and do what they want"

Putin can see the problem Russia prevents Israeli air strikes inside [sovereign] Syria – Jerusalem Post
Israeli sources called Netanyahu's quick Russian visit – to try and convince Putin to ignore Israel's attacks in Syria – "a failure"
None so blind President Trump says he doesn't believe Israel is spying on U.S.
Jews "never spy on the USA" Israel accused of planting mysterious spy devices near the White House — Politico | Israel Planted Devices Near White House; Netanyahu: "Blatant Lie" | devices near White House – The Guardian.Netanyahu rejected the accusations as a "blatant lie", saying the country had a longstanding commitment "not to engage in any intelligence operations in the U.S." – what about Jonathan Pollard? (see Wikipedia's biography of Pollard) and what about this: Carl Cameron's explosive four-part report in 2013 for Fox News on Israel's undeclared penetration of US Government agencies | Israel's surveillance of the White House is considered a breathtaking violation
... And Jews never smear anybody Lou Dobbs deploys "anti-Semitic" tentacles" trope to smear George Soros – Daily Beast
Up to their old tricks Chicago attorney Jordan Margolis sentenced to three years and must pay $300,000 restitution. – Prosecutors said he settled personal injury, wrongful death and car crash lawsuits without his clients' consent and pocketed the money. He was charged in 2016 with stealing more than $1.1 million
Of course, the USA has no dark past The "Nazi" archives: Where Germany's dark past is stored on paper: Warning: Deutsche Welle is a propaganda organ of the puppet German government
Ban that tune Bei Volksfest in Bayern spielt Kapelle Hitlers Lieblingsmarsch –says Israel-friendly BILD Zeitung. (Actually Hitler disliked the Badenweiler march, which was played most places as he arrived to speak)
Dog-and-pony News Deborah took on a Holocaust denier and won - but he was just the beginning – Shock/ horror: Last month a poster about the Diary of Anne Frank was sprayed with a swastika. "So in their mind, of course the Jews are making this up, of course the Jews are lying about this, of course the Jews are not telling the truth." If she says so. Mr Irving was banned in 1992 from revisiting Australia under wealthy Jewish pressure , so cannot answer | Fake news and "anti-Semitism" are ancient bedfellows – "The eminent historian [and Liar] Deborah Lipstadt has long been on the front line of this fight"
Because we're different Israel foreign minister heads to Switzerland to stop war-crimes arrest-warrants against Jews – Middle East Monitor
A "Holocaust"-shaped war Imperial War Museum's £30m plan to show how "Holocaust" shaped war
Just as Hitler predicted Moldova's Jews feel an anti-Semitic backlash after a corrupt politician flees to Israel. Evgheni Bric, director of Moldova's Judaica Institute, said that "the only time that Ilan Shor remembered he was Jewish is when he fled to Israel to avoid prison"
Don't tell anyone Hillary Clinton has Jewish roots | Germany makes citizenship easier for [Jewish] descendants of [Jewish] refugees from...
First day anniversary of WW2 Germany eases citizen rules for descendants of Jewish WW2 refugees | Poland still counts losses from WW2 invasion"There are still old Polish people who have never received one euro in compensation and they feel very nervous. They are angry that Jewish people get compensation but the Poles get nothing." — But in 1945 Poland "got" East Prussia, Silesia, and other much valuable German real estate
Updating the glossary One "Holocaust descendant's" [watch for that new word] fight for justice: "They stole not just our land, but my family's history" – Seems this Jewish heir to the Goldman estate owned a Catholic church. Oh those awful anti-Semitic Poles
They had colour movies in 1936? Berlin, Germany, life in 1936 in colour – that's "in color", for dummies. Thankyou, YouTube

Did Auschwitz know Germany remembers "Holocaust by bullets" in Ukraine | DW | - "German soldiers and police shot and killed more than 1 million Jews in Ukraine". Hmmm. Note: Deutsche Welle is a propaganda outlet of the puppet German government
Third Rail news Germany's AfD expels regional leader over links to Holocaust denier — mustn't touch that Third Rail; but the number of touchers is increasing every day


Dog-and-pony show, or smear and smirk ["Liar"] Lipstadt: Governments must treat anti-Semitic attacks as domestic terrorism | "Professor" Deborah Lipstadt has described this month's defacing of a Melbourne theatre billboard promoting The Diary of Anne Frank as "deeply disturbing" | A History of Holocaust denial comes under scrutiny in the evidence room. "And because the burden of proof for British libel cases lies with the accused, [the Liar] Lipstadt and her lawyers were tasked with proving that Irving had lied about the Holocaust" – but Lipstadt remained literally stumm throughout the trial, unlike Mr Irving, below right, who gave evidence. — The installation was "designed and built under the direction of Robert Jan van Pelt, an expert witness in Lipstadt's libel case ." Pelt denied on oath that he was writing a second book about Auschwitz – it has since been published – but he confessed inter alia that being a non-architect, he was not qualified to testify about architecture (or toxicology etc. for that matter). The judge appears to have overlooked that and his perjury
The Judeo-Bolshevik paradise "Soviet Paradise" on show during "Nazi" nightmare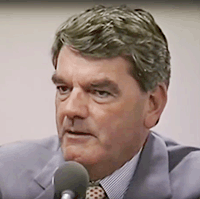 Unwanted exposure David Irving (right) speaks at the Carlton Inn, Toronto, Canada, thirty years ago, March 11, 1989, exposing the wealthy worldwide smear campaign against him since 1963: "This has nothing to do with justice (1989)", 29 minutes. Thank-you, YouTube
Main Jewish pastime Former Congressman Gary Ackerman, 76, is accused of fondling and forcing ++++ sex on a 17-year-old at Boy Scout camp in the 1960s. – The latest witch-hunt news

So not all of them are liars, then My Jewish Grandfather's correspondence with Henry Ford | [President] Trump invokes "anti-Semite" Henry Ford after accusing Jewish Democrats of disloyalty
Three guesses, as to why Why most Jews are not involved with the Hong Kong protest – Jewish Telegraphic Agency
It's in their blood Israeli drug lord Amos Dov Silver escapes at Boryspil Airport, Kiev, during extradition to Israel. (Extradition, or rescue?)

Are Jews allowed to tell porkies? Josh Frydenberg caught out on citizenship lie | Not Australian citizen, Treasurer, Liberal MP Josh Frydenberg faces court legal challenges. He lied about his own mother | Frydenberg faces citizenship challenge —The Australian Jewish News

Thuggery spreads to U.K. Chris Williamson refuses to bow to thuggery after venue threatened by two men — whose identity we just can't guess | Labour facing fresh Williamson row as suspended MP is set to speak at "multiple" events at party conference. Look what Israel and its Jews are doing to the once proud, independent U.K.

We never looked like that German Jews and U.S. ambassador: Jews accuse Spiegel of spreading "Nazi" propaganda – Showing Jews with sidelocks is "anti Semitism", German Jews charge

They lost advertising Pro-Corbyn website The Canary blames political Zionists after it's forced to downsize – Huffington

Liar, dog, or pony – which is which Deborah Lipstadt was described as a liar by Judge Sir Charles Gray QC after she spouted total lies for which she offered no defence, writing for example that David Irving was in cahoots with Hamas and Hezbollah, destroyed or damaged records loaned him by Moscow archive, and so on

Is there a pattern emerging here? U.S. President Donald Trump pardoned Israeli-born drug pusher Ronen Nahmani, who had served four years of a twenty-year sentence for conspiracy to distribute synthetic drugs. American Chabad member Sholom Rubashkin, was also released from prison. The president dismissed Rubashkin's sentence | Bernie Madoff asked President Trump to reduce the remainder of his 150-year prison sentence

Wheel in the accused Former SS soldier Karl Munter, 96, charged in Germany with "denying the Holocaust" ("for questioning the extent of the 'Holocaust'"), says Jerusalem Post. Faces five years in jail if convicted - NB: Deutsche Welle is a propaganda organ of the puppet German government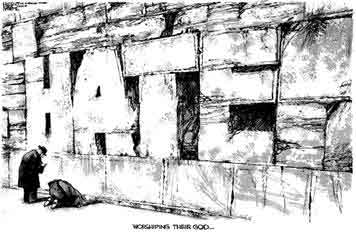 But some of Pres. Trump's best friends are Jews Bernie Sanders: U.S. policy in Mideast can't be "pro-Israel, pro-Israel, pro-Israel"
Names of "family members", please MGM Resorts to remove six-pointed star from security uniforms – a casino guest June Scharf "screams she has family members" who died in the "Holocaust" – MGM uniforms: Design will be redone after a complaint of "Holocaust" imagery - CNN
A great and decent lawyer RIP: Robert M. Morgenthau, longtime Manhattan district attorney, dies at 99
Soviet "liberators" Trump, world leaders invited to Jerusalem to mark 75 Years since liberation of Auschwitz – Auschwitz, a labor camp with an unaccceptably high mortality rate; and demonstrably nothing more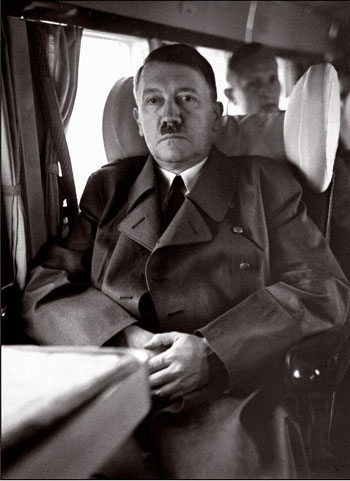 Leadership qualities U.S. school official apologises for calling Adolf Hitler a "good leader" | Israeli Rabbis at military prep school are caught on video praising Hitler
The long, long journey to recognition His Wehrmacht and SS troops paid the ultimate price defending Europe against the mighty offensive prepared by Moscow's Judæo-Bolshevik army against all western Europe for July 1941; but Hitler's masterstroke on June 22, 1941 came first. On the Soviet plans, see original Soviet documents, in Major-General (DDR) Dr Berndt Schwipper's (ahem, downplayed) book, Deutschland im Visier Stalins (Vowinckel Verlag, 2016). Photo left: one of hundreds in David Irving's newly reissued Hitler's War: "I have recently received my copy of Hitler's War," writes RU of Oldham, Lancashire. "A beautiful book, with wonderful photographs. A book to be proud of! Your tireless energy in producing this History is something we should all be grateful for." DC writes: "The book arrived in today's post. You were right about the superb quality of the printing, and especially the photographs!" | JFK diary calls Hitler "stuff of legends"
The unspeakable truth "Stauffenberg was a traitor": the comment that went too far for the AfD | AfD-Vorstand will sich mit "Stauffenberg-Schmähung" befassen | Frau Merkel marks Hitler assassination bid with attack against "far Right"
Oh-oh, he's Jewish? Australian Prime Minister Scott Morrison [a Pentecostal Christian and Zionist] defends Josh Frydenberg, condemns "Anti-Semitism" – The Australian Jewish News | "Board of Deputies of British Jews" accuse Labour of "letting off" antisemites – The Guardian
Right: Jonathan Tobin, editor-in-chief, Jewish News Syndicate
The saga returns Lawyer flags Josh Frydenberg, threatening to challenge his election in the High Court, claiming he is a Hungarian citizen by descent | Frydenberg citizenship saga returns – and the process of ritual defamation of his accuser begins – Frydenberg, described as "the son of a Holocaust survivor," – his Hungarian mother was two when WW2 ended and she left Hungary – said the issues of his phoney Australian citizenship were "dealt with comprehensively through the last parliament"; yes, too right. 'Nuff said. In our view he's Australian as a bent shekel
More "anti -Semitism" Daniel Radcliffe [aka Harry Potter] weeps on BBC TV – upon learning that a U.K. police report stated, "Jews are frequently responsible for demolishing their own business premises." It is called Jewish lightning. His great-grandfather had a jewellery business – what else? – and was denied insurance compensation.
Because they have found / know / suspect the truth? Why is there a double standard for regimes that deny the "Holocaust?"
Watch movie of real life U.S. colour film footage of Berlin streets around July 1945, ending with a ghostly, mocking snatch of Dr Josef Goebbels' famous Total War speech in the Berlin Sport Palace in February 1943
Keep your bags packed Jewish descendants of refugees from Nazi period denied German citizenship – DW 10.07.2019 Deutsche Welle is a propaganda organ of the German government – "I am appalled," George continued. "As a Jew, there has always been a thing about keeping a bag packed" – like any common fugitive
Seeemple! – just behave like the decent rest of the human race Department of Justice to convene summit on combating "anti-Semitism"
Sir Henry Deterding Royal Dutch Shell founder's meetings with Hitler, strong "anti-Semitic" views and financial support for the Nazis Never again, please Jewish group calls on Congress to make "Holocaust education" mandatory in U.S. schools. Note RT is a propaganda organ of the Russian government | Israeli government minister takes credit for 27 U.S. States passing anti-BDS laws – i.e., a foreign government boasts it interferes in U.S. politics
A man easily harrowed SS dagger belonging to Erch Kempka, Adolf Hitler's personal chauffeur goes on sale for £5,000 – Daily Mail. Matthew Tredwen, specialist at C&T Auctions, said: "It is harrowing to think this dagger could have been in such close proximity to Hitler"
Another typical smear Alex Grobman, PhD, on David Irving's Great Adventure — which is? He does not say. Grobman, "a Hebrew University-trained historian, is senior resident scholar at the John C. Danforth Society and a member of the Council of Scholars for Peace in the Middle East. . . Most, if not all, of my fellow Jewish historians, refused to meet with Irving or any other 'Holocaust' denier. . . After the [Deborah Lipstadt] trial, I appeared once again on BBC. I spoke to Irving briefly, though he was not in the mood to talk"
Tru-ish refugee story I fled "Nazi" Germany. I hope the US doesn't turn its back on refugees, says Aryeh Neier in The Guardian
Great Shakedown to continue, ad infinitum Trauma left biological mark on brains of Holocaust survivors says Dr. Ivan Rektor in a press release. "Early results show this is also the case in children of survivors, too" | Mental health of three generations has been harmed by the Holocaust – says Jewish professor | Generosity, extended, for spouses too: [puppet government of] Germany extends pensions to Holocaust victims' spouses by nine months after their death
Kindertransport 1938, latest Mark Lewis and Mandy Blumenthal arrive in Israel. – After living in England they decided they don't like London any more, where nobody kills Palestinian children | Kindertransport in reverse: "Europe is finished," says an Ungrateful Lawyer as he leaves U.K. for Israel with his wife, brandishing coveted Israeli passports | The other side of the Mark Lewis story: he was fined £2,500 in November by the solicitors' regulating body for offensive tweets and "wishing" others dead, which is a felony in Britain, when committed by an Englishman
»»Ungrateful lawyers Mark Lewis and Mandy Blumenthal arrive from London at Ben Gurion Airport, Israel (Channel 10 screen capture)
Jewish boast Israeli-made virus bypasses Apple firewalls, infects Macs — but can it kill Palestinian children?
Not switched, but not "suicide" either Hitler's deputy was NOT switched for a Doppelgänger — No, Rudolf Hesswas strangled to death in Spandau prison. Berlin, by an American Negro GI, Tony Jordan, in August 1987, which was hushed up by agreement between the U.S. State Dept and the embarrassed British Foreign Office, who instructed the Berlin prosecutor (and no doubt the puppet German government) not to investigate
"German" measles epidemic Australia News: Report reveals couple's mysterious, controversial donations — anti-vax parents in U.S.A. usually fall into one of two camps, people from wealthy inner-city suburbs or alternative regions, and those from less affluent areas who lack access to immunisations
Like Neville Chamberlain's promise to defend Poland Pompeo: US will defend UK Jews from Labour Party's Jeremy Corbyns | Trump will defend British Jews if "anti-Semite" Corbyn elected, by Adam Kohen | Pompeo pledges to "push back" if life becomes difficult for UK Jews
Anti-Semitism The Jewish Labour Movement hires Deborah Lipstadt lawyer James Libson in Labour "anti-Semitism" case – Libson spent his youth in a kibbutz, and played no part in Liar Lipstadt's defence | James Libson on Denial: "I thought we'd beaten Hate — I was wrong" – (But then I read down to the comments. Over 4,000 of them when I last checked. I have not read them all, but every one I have looked at could be taken straight from the David Irving phrase book. '20 trillion Jews died to bring us the documentary')
Unteaching history YouTube removes historic video clips of Hitler during hate-speech crackdown - The Washington Post. Shame on YouTube
Another Churchill Myth The Occidental Observer: Setting the Record Straight on another Churchill Myth
Liberty saved On the 52nd anniversary of Israel's attack on the USS Liberty, Ray McGovern focuses on Terry Halbardier, who sent the SOS signal to the U.S. Sixth Fleet which saved the unarmed ship from total destruction by the Israeli air force
Historic sculpture The Times: mediæval Judensau of Wittenberg carving makes "anti-Semitism" acceptable
Belated "discovery" The Times: Russia finally publishes Molotov–Ribbentrop pact with Nazis after decades of denial — In fact Mr Irving privately loaned to the late Jewish–Soviet historian Lev Besymenski in the 1990s, from his own archives, the then unknown microfilm by Karl von Loesch of the documents concerned, which provoked a furore among Soviet historians: the Stalin–Ribbentrop pact and its secret protocols. President Putin now mistakenly claims the Russians are just releasing them
Does that hold for Jonathan, and Julius and Ethel? Chuck Schumer [a Jew] speaking at AIPAC conference, claims that a Jew who lobbies for Israel is no less American | Israeli ex-spy who helped capture Nazi mastermind Eichmann dies at 92 | U.S. Congresswoman Ilhan Omar amplifies Israelis' dual loyalty charge, dismissing Democratic rebukes | Omar goes on an "anti-Semitic Twitter rampage" | Rep. Omar apologizes for controversial tweets on Israel lobby after backlash from Democratic leaders
Don't ask, Who's he? The incredible disappearance from [2019 MSM] of [Israeli diplomat] Shai Masot – A Google news search reveals that not one single mainstream media outlet has mentioned Shai Masot in 2019. Not even once | Craig Murray blog: Why has Israeli spy Shai Masot not been expelled?
But not all of them World War II messages show how "Nazis" fell for D-Day deception – Hitler was not deceived. He predicted on March 20, 1944 – as our transcripts show – the invasion would only be at Normandy
Not surprising Israeli who headed Colombia child prostitution ring arrested in Portugal – Middle East Monitor | Israeli heads child prostitute ring
Might as well redressonline – Gilad Atzmon says: Why not turn the U.K. parliament into a "Holocaust" memorial? | The British Prime Minister and her Puppet Master | Despite Brexit woes, Theresa May is a hero to many British Jews – that should be warning enough
All the usual suspects History of Jewish Bolshevism An excellent parade (slide show) of the usual suspects

And good riddance Washington Examiner: Twitter dumps Southern Poverty Law Center, stops making hate pay | AP: U.S. shuts down "dark web" marketplace; two Israelis charged

Misunderstanding Israeli Jew spits at Poland's Ambassador, Marek Magierowski, outside his embassy in Tel Aviv — it's an expression of welcome in Hebrew, but easily misunderstood

Great Shakedown news Poland cancels Israeli delegation's visit over "Holocaust" restitution demands | Mining the "Holocaust", another vein discovered in Warsaw: U.S. Secretary of State Pompeo urges Poland to pass "Holocaust restitution" law | Polish leaders should clearly condemn "anti-Semitism," and pay up: writes World Jewish Congress head Ronald S. Lauder, of the World Jewish Congress and CEO of Estee Lauder

National interest Australian TV News: David Irving Confronts prime minister John Howard during the Commonwealth Business Forum, October 23, 1997: SBS News — John Howard came to London's Mayfair to speak at the Intercontinental Hotel, and boasted of Australia's new liberalism. Mr Irving, banned after two visits, challenged him, unrecognised: "Would you say a word about Australia's record on the suppression of free speech, of which of course I am a victim?" Howard retorted: "The reason for that decision was, uh, based upon my government's perception of the Australian national interest," and "I don't apologise for it." Mr Irving: "I've not been kept out of Australia 'because of my views on the Jews,' but because of the Jews' views on me." Asked for his views on Immigration Mr Irving said, looking round, "I can't see a single Black person in any of your television teams here. . ." (Thank you, YouTube)

Herpes again Tracing the roots of anti-Semitism with Deborah Lipstadt — The great historian should examine whether the Jews might possibly be acting in a way that offends anti-Semites. She doesn't. Her obsession is herpes. "I know herpes virus is a terrible thing to have." Is she telling us something we don't want to know? This Brooklyn-born historian uses illiterate Americanisms like "a bunch of" and "like" far too much for us educated people to, erm, like

And our Innocence David Irving: A Speech to the Clarendon Club, 1990: We Have Lost Our Sense of Destiny

Dave Cameron's friends Kids Company founder urges judge to spare her the "stress" of a court case over the charity's financial meltdown after taking £42m of public money

News on Fake-news fakery 'Beautiful–Diverse—Sensational': Israel sets up fake Eurovision boycott page to counter BDS campaign – proof it's succeeding | Israel takes heat for promo joking about the occupation, greedy Jews and "lovely b*tches" | Israeli firm offers spyware to monitor human rights activists:

Praise for AfD party Israeli envoy to Germany [the visibly obese Jeremy Issacharoff ] says he is shunning the "far-right" AfD party because its leaders have said things that are "highly insulting for the entire issue of the Holocaust"

One historian on another New Yorker reviews a fawning and over-detailed biography of "Eric Hobsbawm, the [Jewish] Communist Who Explained History" — dead, but described as the world's most renowned historian. The book by Professor Richard 'Skunky' Evans, is dismissed as a "data dump" undermined by errors but he is lauded nonetheless by New Yorker as "one of Britain's foremost historians and author of a commanding trilogy on 'Nazi' Germany". (Aah — Evans was hired as Deborah Lipstadt's "chief expert". Penguin Books Ltd, the other defendant, paid him over a million pounds but did not reveal that fact in court)

Bomber Comand destroyed homes better Israeli forces illegally demolished forty-one Palestinian homes in past two weeks

Your next Iraq blunder Israel wants the Trump administration to attack Iran, but U.S. mainstream media are ignoring Netanyahu's instigating | Report: leaked draft of Trump's "peace plan" reveals creation of "New Palestine," and promises to join Israel in next war in Gaza

"Yes, I have" Chris M Lehman writes: "Holocaust deniers" attempt to derail Genocide Education Bill

I'll have a Gibson Seth Aaron Rogen slams Mel Gibson's new Santa Claus movie "Fatman": "Ho-ho-Holocaust denier" — They will never forgive him for stating: "F***king Jews. The Jews are responsible for all the wars in the world!" | Israel, root cause of world instability, says Indonesian prime minister Prime Minister Tun Dr Mahathir Mohamad

We prefer that Court, please Tennessee Judge posts link on Facebook saying Jews should "get the f**k over their Holocaust"

Truth barges out Yair Lapid's rhetoric on Poland feels like "Holocaust denial," Auschwitz museum says: Jewish Telegraphic Agency – Note how JTA's official stance on Auschwitz is almost imperceptibly changing as the truth on the Six Million begins to fade

You just gotta like 'em U.S. may review ties with countries deemed anti-Israel | "Nazi" rhetoric and "Holocaust" denial: Belgium's alarming rise in "anti-Semitism"

Quelle surprise F.B.I. shuts down "dark web" marketplace; two Israelis charged

Backed by gullible losers From multi-millionaire Tony Blair, to Gordon "Slackjaw" Brown, to John Major, to Theresa May, all living U.K. Prime Ministers endorse new "Holocaust" memorial as "sacred national mission" | May backs building of "Holocaust" centre near British Parliament – that's £50m from British taxpayers, who were not asked. U.K. Government video appeals to British to suspend disbelief – and the Jewish posturing and whining goes on | Facebook says it will allow "Holocaust Denial" says Jewish Journal — "Liar" Lipstadt is horrified; and the "CSI" question remains, where are the bodies?

Near miss BBC Radio 5 Live host Danny Baker tweets monkey image hours after Prince Harry and Meghan show off baby Archie
Making real history disappear Labour activist [Rachel Abbotts] shared "neo-Nazi" material [claimed correctly that "the Jews declared war on Germany in 1933"], but is still embraced by local party. – (Odd fact: The Daily Express front-paged the appeal, left, on March 24, 1933. Citing a superior directive, the company now refuses to provide this issue to inquirers, but still sells other issues, e.g. for March 23 and 25!)
Image left from the picture section of David Irving, Hitler's War
Get this straight Documentary on Dr. Ruth [Westheimer] delves into the sex therapist's "Holocaust" past
Obituary: R.I.P. John Lukacs, [born Lukacs Janos Albert in Budapest] historian and "Holocaust" survivor, dies at 95; half a Jew, enough to be sent to a labor camp. By the end of 1944, he was a deserter from the Hungarian army labor battalion
Brave words Paula Hitler: Statement, in support of her brother (May 1, 1957).
Hess mystery approaching solution Deputy Führer Rudolf Hess's papers going back to the 1920s are in Swiss government archives, confirms historian Manfred Görtemacher, who has been retired by Potsdam university.
We used the papers in Bavaria in the 1990s, for Hess, the Missing Years. As Hess's late son Wolf Rüdiger Hess himself later told us, he placed his father's Nachlass in Berne deliberately – out of reach of the puppet German government. We now know that his father was actually strangled to death by a Negro U.S. guard, Tony Jordan, in Spandau prison in 1987. Jordan still lives in Berlin
Hitler's War is back in print. Photo, right: from the picture section, one of Hugo Jaeger's fine photographs, Hitler addressing Luftwaffe fighter aces at the Berghof, spring 1944.
Will Germans now get a refund? "Fixing the numbers at Auschwitz," – article in Chicago Tribune, May 7, 2019 | Mainstream media finally admit "Holocaust" death numbers too high— "Invention of Polish Communist Government" — In 1989 Polish historians were allowed to say what Franciszek Piper, manager of Auschwitz, says he had known for five years. (Jewish scholars say they knew the truth for 10 years. But Piper, a Jew and ex-communist Pole, and Jewish historians have different explanations of why it has taken so long for the truth to come out |
"Deplorable" Auschwitz-themed items sold online
How they do it Watch "Irving's Goebbels (1994)" on YouTube — speaking on Jews and Dr Goebbels, in Irvine, California in Sept 1994. (Watch better without the subtitles, which are wrong and unhelpful). Thank-you, YouTube
Didn't know that "Is this a joke? You know we don't eat bread during Pesach!" British Labour Party deletes Passover tweet after it outrageously features a loaf of bread | Local Labour candidates warned to prepare for new Sunday Times anti-Semitism witch-hunt | [Labour Party's] Burgon urged to apologise – to supporters of atrocities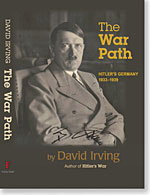 Sounds familiar? Adolf Hitler's famous Speech – Why he declared war on the United States. Thank you, YouTube
Why do they hate us? From Nôtre Dame to Prague, Europe's "anti-Semitism" is literally carved in stone – Jewish Telegraphic Agency | Jews Rejoice that Nôtre Dame Burned | Nôtre Dame and the fire at Jerusalem's al Aksha mosque, both on the same day, bit of a coincidence | ISIS Propaganda Group claims credit | Reports indicate that 80 percent of the desecration of places of worship in France concerns Christian churches – In 2018, the French Ministry of the Interior recorded 541 anti-Semitic acts, 100 anti-Muslim acts, and 1063 anti-Christian acts. So we guess the French won't "find and publish who torched Nôtre Dame | Another Rabbi applauds the burning of Christian churches
More Gullible's travels German train [box-] car arrives in New York for Auschwitz exhibit, described as being "like those used to transport men, women and children to Auschwitz and other 'Nazi' death camps," from the collection of Robert Jan van Pelt, described as "a leading Auschwitz authority" – a perjurer and admitted charlatan architect used by Deborah "Liar" Lipstadt to bolster her defence
CONTINUED ON PAGE 2 | and ARCHIVE

* ASSHOL: "Association of Spurious Survivors of the Holocaust and Other Liars" | * AWPOW: Are we powerful or what!

OUR FRONT PAGE NOV 10, 2005: MR IRVING KIDNAPPED, IMPRISONED IN AUSTRIA
Quick navigation

> contacting David Irving
> a two-minute cascade of other views on David Irving
> photos of David Irving
> latest copyright-free photo of David Irving (1.2MB)

Our target is to raise $3,000 each month. This month from regular donors $360; from PC of Sweden, $20, AB of theUK, gives $25; DB of Sacramento gives $50, JW of Selby, Yorkshire, gives $10; AG from Latvia donates $100, SH of Waco TX gives $25; CC oif Pennsylvania sends $100, RF of W Hartford, Ct., $50, and JB of Brisbane sends $50, and $100 from JR of Stockton, Calif., and $100 from JB of Brisbane, Australia.

Mr Irving sends warm thanks to all these good friends.

»» Click if you prefer to make a regular monthly contribution

> The thermometer turns GREEN when the target is reached

---
Luftwaffe vzestup a pád © David Irving 1973. Život maršála Luftwaffe Erharda Milcha.
Czech translation © PhDr. Ivo Pospíšil, Csc.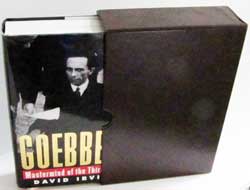 "GOEBBELS" IS NOW BACK IN PRINT: "I've been enjoying your Goebbels biography," writes Michael Zarowny. "Thank you for your extraordinary efforts to keep the text in print. The book is of a higher paper and binding quality than the standard publishing house text!"
Customer feedback from David B in Decatur, Georgia: " A while ago, I ordered "Hitler's War", and to my surprise, you signed it. Thanks!."