David Irving's daily newswatch on History and Human Rights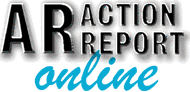 David Irving's flagship book Hitler's War, 985 pages, is available in a new edition – with more photographs including many in colour. CLICK HERE TO ORDER. "Thank you for shipping to me the absolutely beautiful edition of Hitler's War, which arrived today"– Jim S. "I have just came in from work to find my books delivered already. Thank you so much for your excellent service" says customer Barney M. – Glenn S. says:: "A very impressive looking book (and heavy!) with nice photo sections."
---
Miami flight news Flight attendants "cheer and high-five" as 22 of Jewish family are booted off a plane to New York– Daily Mail. "This reminds me of 80 years ago when we were singled out in 'Nazi' Germany." We? He has a long memory, then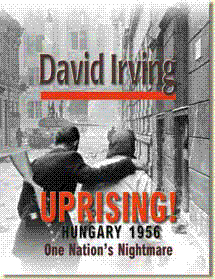 A gentleman speaks Enoch Powell on being called a Racist – The Dick Cavett Show
One squirt and you're toast Black is seen chasing another Black with a flamethrower in New York City Oh, the city is Democrat

(Photo ) Hasidic Jews in Stamford Hill, U.K., block the street as they dance to celebrate the Jewish holiday of Purim. Richard Ferrer, the editor of Jewish News, tells The Sunday Times: "These things are ordained by God and the very essence of life itself"

Jews and other people's money Daring exploits of the man [Shlomo Hillel] who brought 120,000 [Iraqi] Jews to Israel– aish "The Prime Minister opened the meeting by explaining that illegal emigration was terrible for Iraq because fleeing Jews were smuggling property out of the country and leaving behind unpaid debts and taxes. 'I pretended to be sympathetic to this nonsense,' Hillel recalled, 'then we got down to business'"

Extrajudicial, but he's still dead Killing of Palestinian man by Israel an "extrajudicial execution"– aljazeera.com

Going, going Melilla enclave removes last statue of popular "fascist dictator" Francisco Franco on Spanish soil - at the dictate of Spain's Socialist government– BBC
---
CLICK below for complete 30pp interactive descriptive Catalogue of all David Irving's books so far — both available and as work in progress
David Irving writing in his Mayfair, London home in the 1970s (photo: The Times, London) [Buy the books here]

---

Bange Frage: why us? Antwerp mayor says, Jewish Orthodox sect, Haredi, ignoring Covid measures triggered "anti-Semitism" Antwerp police have tolerated minyans, the minimum of 10 men needed for Orthodox worship, but have intervened when the requirement was exceeded

Another coming just behind Orthodox protesters in Israel burn bus as riots against COVID restrictions continue across the country–Jewish Telegraphic Agency

Is their behaviour typical? "Anti-Semitism" is expected to rise significantly around the world in 2021–Jerusalem Post | Facebook deletes Netanyahu post, suspends chatbot over privacy violation | Poor behaviour gives Israeli tourists bad name in UAE– YNet | Trump Administration quietly eased sanctions on Jewish Billionaire— NewYorkTimes The Israeli billionaire Dan Gertler was accused of bribing the former Congolese president to arrange corrupt mining deals

Alternative: just ask the Jews to behave? New Austrian national "anti-Semitism" strategy presented to ministers, EU– jpost "Austria's denazification and 'Holocaust denial' law of 1947 will be evaluated, and if necessary, amended"

Virus won't touch us, we're chosen Jewish News: London Police break up 400-person wedding party at Stamford Hill Charedi school. "Police reported that the group had gathered with the building's windows covered to stop people seeing inside. Police call it "completely unacceptable breach of the law"– Jewish News. U.K. Government does not condemn as the Jews, like Blacks, routinely thumb their noses at U.K. lockdown regulations, just as in Brooklyn; they will pay the price – and then whine. Party Organiser fined £10,000.
Who needs them Github apologises for firing Jewish employee who warned about "Nazis"– BBC | Survey shows Jews feel safer in post-Jeremy Corbyn era– thejc Which leaves us, the original English ... erm, what? | Enormous Jewish wedding of a Hasidic grand rabbi's son in Brooklyn - and New York City Sheriff's Office says it's legal | JewishTelegraphAgency

---

Below: ADL chief Jonathan A Greenblatt. Note his ritual wristband

Wanker in chief The Jewish chief legal analyst at CNN, Jeffrey Toobin, exposed himself during a video conference call with coworkers– post millenial | The New Yorker writer and Jewish chief legal analyst at CNN, Jeffrey Toobin, caught masturbating in front of New Yorker bigs, report says; is now out– Guardian. He forgot to apologize to the "congregation" and survivors

Jacob Blake, the facts Jacob Blake was a Child Rapist with a Warrant out for his Arrest | video | Blake, the wanted child rapist who refused to co-operate with Police, has Joe Biden "praying for his recovery" | angered Black woman tells the truth about Blake- YouTube. (He was wanted for the statutory rape of a 15 year old girl)

David Frost returns The original archive tapes of the BBC's David Frost Programme, in which Frost attempts before an invited audience on June 9, 1977 to destroy Mr Irving's just-published book Hitler's War – and fails, as the U.K. Press admits next day: Thankyou, YouTube

Lesson in pariotism How David Irving defined Patriotism for Richard Rampton, QC, the very capable defence counsel of Deborah "Liar" Lipstadt (15 secs.)

Hitler's War by David Irving, is available. Photo, right: from the book's picture section, one of Walter Frentz's fine photographs, Hitler addressing Luftwaffe fighter aces at the Berghof, spring 1944

The Biter Bit Protesters Disrupt Talk by "Renowned Holocaust Scholar" Deborah Lipstadt at UC Berkeley– algemeiner. So, Renowned Liars can be disrupted, too | Richard Evans on Lipstadt trial– historyextra. Lipstadt described to Evans in detail the frightening experience of a lone author with little or no means, being sued "for a large sum of money". Evans: "I felt by this time that it was an action that should never have been brought". So much for the "neutral" expert

CONTINUED ON PAGE 2 | and ARCHIVE

* ASSHOL: "Association of Spurious Survivors of the "Holocaust" and Other Liars" | * AWPOW: Are we powerful or what | * HOLOCAUST SURVIVOR: somebody to whom nothing happened on the way the bank, like Hadassah Liebermann etc.

OUR FRONT PAGE NOV 10, 2005: MR IRVING KIDNAPPED, IMPRISONED IN AUSTRIA

Quick navigation

> contacting David Irving
> a two-minute cascade of other views on David Irving
> photos of David Irving
> latest copyright-free photo of David Irving (1.2MB)

---

Customer feedback from David B in Decatur, Georgia: " A while ago, I ordered "Hitler's War", and to my surprise, you signed it. Thanks!."

David Irving is in London, signing customers' books
---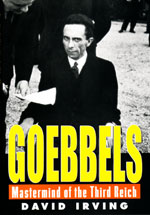 "GOEBBELS. MASTERMIND
OF THE THIRD REICH"
The controversial
David Irving biography,
752 pages plus 40 pages of photos

"HITLER'S WAR"
David Irving flagship biography,
985 pages plus many pages of photos in colour, based on tiousands of unknown wartime documents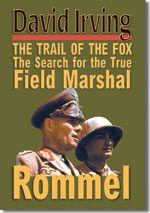 "THE TRAIL true Field Marshal Rommel. Based on his diaries and wartime paper.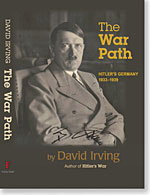 "THe WAR PATH"
Focal Point reprint
of a David Irving classic, with 27 pages of unknown photos
[Click here to see jacket]

2022 tour: all four grim "Reinhardt" sites and three massive bunker-ruin sites, including Hitler's HQ, the Wolf's Lair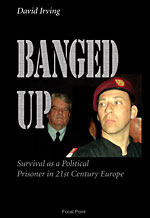 "BANGED UP"
How the Austrian secret police ambushed and imprisoned Mr Irving 2005-6 – for a lecture he gave sixteen years earlier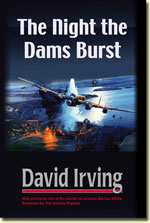 - a thrilling war story of British genius and heroism.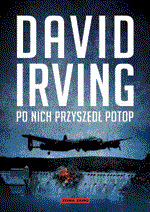 Now also in Polish bookstores: The Night the Dams Burst

and English edition

DVDs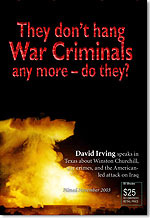 enlarge. Video DVD: THEY DON'T HANG WARS CRIMINALS ANY MORE - DO THEY? David Irving at Alvin, Texas: "Hitler, Churchill, and Iraq - war crimes of the modern world." $25
---
DVD: The Life and Death of Heinrich Himmler.

enlarge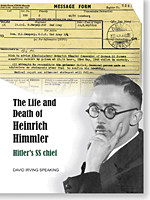 David Irving speaking at Niagara Falls in 2012. Drawing on data from Moscow and other archives, he talks about Himmler's murder in 1945, his achievements, and how much he actually told Hitler of what his SS was doing. $25. Special to this website's readers, $20.
---
Video DVD: Now available. David Irving speaks on THE SEARCH FOR TRUTH IN HISTORY • After billionaire oligarchs bribed the Canberra Government to ban him from Australia, he entered another way - on 10,000 videos! $25|

enlarge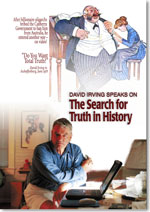 Video DVD: David Irving's message to the Germans: $30: click for details
(will not be shipped to Germany)
---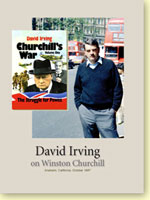 Video DVD: DAVID IRVING talking about Churchill's War

GOEBBELS AVAILABLE IN POLISH:-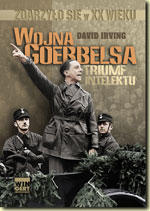 DAVID IRVING'S FAMOUS GOEBBELS BIOGRAPHY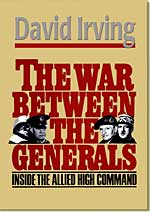 David Irving's classic history of the infighting between the top Allied generals during the 1944 invasion of Normandy, based on their unknown private letters and diaries.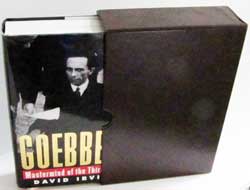 THE VIRUS HOUSE
David Irving's 1967 pioneering account of Hitler's atomic bomb project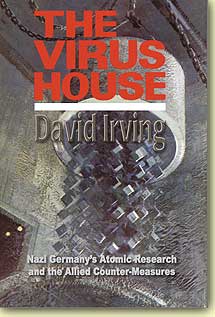 First published in 1967, and serialised by The Sunday Telegraph, Der Spiegel, and newspapers around the world. Said Nobel prize winner Professor Werner Heisenberg: "Irving's book is very good - it gives all the facts."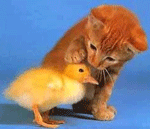 Throughout 2021:
Remember the writers and historians jailed in Germany, Austria, and elsewhere and banned from visiting many countries in the British Commonwealth and "free world"

ALSO STILL AVAILABLE

FOR SALE: David Irving has a very few old but rare first editions of his original books, in English, German, Italian, Spanish, and other languages, most of which are currently out of print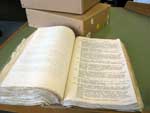 David Irving finds a crucial decoded document on Dresden's huge 1945 death toll

NOW AVAILABLE:The Memoirs of the Chief of Hitler's High Command