David Irving has returned to London from leading his annual tour of historic sites in Latvia and Poland. One guest, RF, from New South Wales, Australia, writes: "I never will forget this trip, with you at the helm. We had a good group who got along splendidly. . . opportunity to hear [you] speak at the various sites. . . You are doing exceptionally well! I would be happy to do it all over again."
---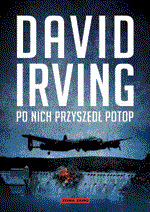 DAMBUSTERS. Now also in Polish bookstores: The Night the Dams Burst | and English edition
"GOEBBELS. MASTERMIND
OF THE THIRD REICH"
The controversial
David Irving biography,
752 pages plus 40 pages of photos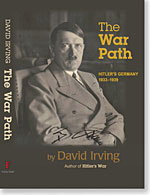 Focal Point reprin
of a David Irving classic, with 27 pages of unknown photos
[Click here to see jacket]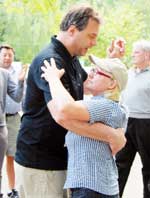 Above: high jinks on our 2011 tour of Hitler's HQ - one of our porkier guests gives our Polish expert guide a tango lesson. This year's tour: all four grim "Reinhardt" sites and three massive bunker-ruin sites, including the Wolf's Lair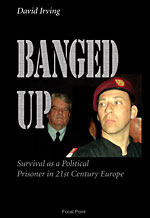 BANGED UP: The full story of how the Austrian secret police ambushed and imprisoned Mr Irving 2005-6 -- for a lecture he gave sixteen years earlier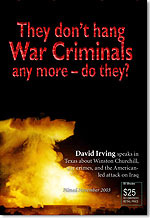 enlarge. Video DVD: THEY DON'T HANG WARS CRIMINALS ANY MORE - DO THEY? David Irving at Alvin, Texas: "Hitler, Churchill, and Iraq - war crimes of the modern world." $25
DVD: The Life and Death of Heinrich Himmler.

enlarge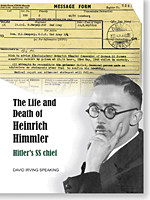 David Irving speaking at Niagara Falls in 2012. Drawing on data from Moscow and other archives, he talks about Himmler's mysterious death in 1945, his achievements, and how much he actually told Hitler of what his SS was doing. $25. Special to this website's readers, $20.

---
Video DVD: Now available. David Irving speaks on THE SEARCH FOR TRUTH IN HISTORY • After billionaire oligarchs bribed the Canberra Government to ban him from Australia, he entered another way - on 10,000 videos! $25|

enlarge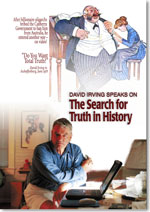 ---
Video DVD: David Irving's message to the Germans: $30: click for details
(will not be shipped to Germany)
---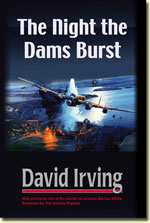 - a thrilling war story of British genius and heroism.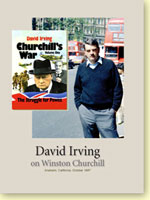 Video DVD: DAVID IRVING talking about Churchill's War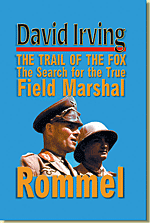 AVAILABLE IN POLISH:-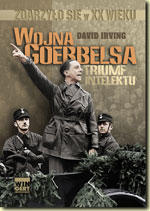 DAVID IRVING'S FAMOUS GOEBBELS BIOGRAPHY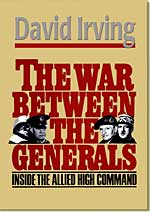 David Irving's classic history of the infighting between the top Allied generals during the 1944 invasion of Normandy, based on their unknown private letters and diaries.

David Irving's daily newswatch on History and Human Rights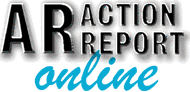 ---

Advance orders are being taken for Hitler's War (right). It has sold out, and is now reprinting, for delivery in November; it has a new, much-enlarged picture-section with 132 photographs (see sample spread) | Contact us


---

RIP – we will not forget Robert Faurisson One of the greats: he exposed the "gas chamber" at Auschwitz I as a fake. Faurisson died in France yesterday, October 21, arriving at seven pm at his home in Vichy. His brother confirms that Professor Faurisson was returning from a visit to his Surrey birthplace at Shepperton; here he was twice interrupted by violent opponents. He would have been 90 in January | Professor Robert Faurisson – the intellectual adventurer of the century – dies on return from his native town

Times of Israel: Israel said to fear US peace plan includes Jerusalem as Palestinian capital | Belgian trade union boss says Israel kills palestinian kids for their organs (the paper later published a partial correction)

Jewish Telegraph Agency: When Dutch Jews found haven in "anti-Semitic" Hungary

"Bono": Political parties that criticise mass migration originate from Satan – the senile, Satanic mega-wealthy singer's first signs of madness? | A commonsense approach from Russia Today : "Detachment from real life": Bono talks populism in Europe | African migrants full of "youthful energy" needed to replace senile Europeans – they jump higher, run faster, but can they read and write?

Daily Mail prints extracts from Kenneth Rose diaries: the day our former King blurted out: "The Jews brought us into the war" ... Oswald Mosley should have been prime minister. On November 1, 1972: "At the Ritz to lunch with Mosley in a private suite. . . [Viscount] Walter Monckton [the Queen Mother's legal adviser] was also there, and the Duke of Windsor turned to him and said: 'Come on, Walter, admit that it was the Jews who brought us into the war.' Monckton naturally refused to agree with the Duke, who then turned to Mosley and repeated the question. Mosley says to me: 'I was interned for three and a half years for maintaining just that; I declined to discuss the matter with the Duke.'" (Lord Monckton's papers are still closed)

The Spectator: Jewish writer, Norman Lebrecht, hacking away at legends: "The truth about Wilhelm Furtwängler" – Furtwängler conducted magnificent Beethoven symphonies in Berlin while the bombs fell. The Jews cannot forget that Beethoven wrote the symphonies, or pardon Wagner for not liking them, or forgive Hitler for showing that a nation can live without them, as he said

Daily Mail: Brexit sees huge spike in Britons applying for German citizenship | The Guardian: British relatives of "Nazi"-era refugees seek German passports before Brexit – an unexpected dividend! Our unloved, overstaying guests, the Kindertransporten of 1938–39 heading back!

Jewish Telegraph Agency: Tens of thousands of newly revealed documents show Argentina's Nazi ties during WWII | Dutch "activists" seek release of archive on "Holocaust" war criminals

Daily Beast: Gideon Resnick: GOP channels "anti-Semitism" to portray George Sörös as puppetmaster – Disclosure: George Soros' Soros Fund Management LLC owns stock in The Daily Beast's parent company.

Activists call for "Hitler balcony" destruction in Vienna – that's all "activists" are good at: destruction

Daily Telegraph: Senior figure in Germany's AfD "went on pilgrimage to Hitler sites"

Sydney Morning Herald: Prominent Jewish community leader Mark Leibler – that's pronounced leebler, please – has accused former prime minister Kevin Rudd of making false claims about the pro-Israel lobby

Daily Mail: Facebook removes Louis Farrakhan's video comparing Jews to termites – but Twitter leaves it up

Ha'aretz: Israeli military worked to create system to track social media users' private correspondence

Heute (Austrian government source): Existenz von Gaskammern geleugnet! 10.000 € Strafe - Oberösterreich lawyer said correctly in closing argument: "Es ist strittig, ob in Mauthausen Vergasungen stattgefunden haben. Was man seinerzeit in Mauthausen zu Gesicht bekommen hat, ist eine sogenannte Gaskammer, die nachträglich eingebaut wurde."

Die Welt (German national newspaper of the Axel Springer group, which supports Israel): "Wüstenfuchs": Was für Erwin Rommel spricht – und was gegen ihn
Jewish News: Tony Blair says Jeremy Corbyn's leadership still "in denial" about "anti-Semitism" – could it be, he just doesn't like them?

Fashion Photographer Mikael Jansson Describes His Year Shooting Portraits of "Holocaust Survivors" – did they ever ask, Why Us?

Israel's Education Minister Naftali Bennett wants "shoot to kill" policy in Gaza – explicitly, even against children
---

CLICK below for complete 30pp interactive descriptive Catalogue of all David Irving's books so far — both available and as work in progress

[Bookstore: buy them here]

---
The Local (a German government source): Uproar in Germany over homage to "Nazi" general Erwin Rommel

Ha'aretz: Israeli writers team up for TV series on "Nazi" scientists at NASA

Tablet Magazine (a Jewish magazine): Failure of Holocaust Education in Britain – 32 percent believe that Britain declared war on Germany because of the Holocaust; Holocaust is the only compulsory subject in the national history curriculum but "after 25–30 years Holocaust education is failing "

The Guardian: U.K. Police spies infiltrated UK leftwing groups for decades – Exclusive: database shows 124 Green, "anti-racist" and other groups spied on by undercover police. Puzzle for the left, why not the right? (Answer: Go figure).

Daily Mail: Sleeping with the enemy: The pictures taken from German PoWs that revealed how women in "Nazi"-occupied Europe leapt into their arms – but no comment on the many colour photos were taken by the Germans

YouTube: David Irving talks about the Nuremberg trials –The Last Battle

Jewish News: $2.2M for security funding – for Jews: special treatment

Times of Israel: "We knew nothing": Hitler personal staff claim they were in the dark on "Holocaust" – as David Irving always wrote. The article has a photo of Hitler "with half-nieces, Geli and Elfriede Raubal" – who are in fact neither. Yawn

[Australian prime minister] Scott Morrison considers Israel embassy move for Australia Note: Morrison is a Christian-Zionist, held prayers with Rabbis last week.

He says he will consider moving Australia's embassy in Israel to Jerusalem as the nation's capital, despite peace process with the Palestinians.

Johannes Heyne, British maltreatment of prisoners, at Bad Nenndorf, in post-war Germany: Britain's Detailed Interrogation Centre: including SS general Oswald Pohl, at the end of May 1945

Reuters: Israel crowns 93-year-old as "Miss Holocaust Survivor"– A dozen trod the catwalk in the city of Haifa, with hair coiffed, make-up, and sashes

Jamal Khashoggi: Saudi Arabia calls murder claims "lies" | Turkey "has recording proving Saudi murder" in consulate of Jamal Kashoggi

MSNBC: protester who confronted Senator Flake in an elevator confessed on MSNBC that she works for George Sörös: Ana Maria Archila, an executive director of the Center for Popular Democracy (CPD); other protester, Maria Gallagher, is an activist. "I work for a network of community organizations," Archila said, adding that it is her "job" to organize people into action. "If the president wants to know whether I work for a social justice organization, the answer is yes ... since I was 23," she asserted

Simon Cowell, son of Eric Selig Phillip Cowell | donates £50,000 (of his estimated honest fortune of $550 million). His non-Jewishness is nevertheless still hotly debated

Times of Israel: Trump lobbied Japan's Abe on casino for Sheldon Adelson - and other Israeli corruption

Evening Standard: Chelsea Football Club offers supporters, banned for "anti-Semitism" chance to visit "Nazi" camp site Auschwitz – but will they be permitted to ask questions? The site is, uh, sticky about that

Erika Solomon: One town fights back against a "neo-Nazi" concert in east Germany – can we hazard a wild guess why Miss Solomon is so hostile?

Trump aide hired Israeli Black Ops agents to Blackmail JCPOA Supporters – aide hired "Black Cube" to dig up dirt on Iran deal; the same firm was hired by Harvey Weinstein

Russia clarifies position, against Israeli "control" of Syria's Golan Heights

The Guardian: AfD leader Alexander Gauland accused [by Jewish historians, in Israel-friendly German newspapers] of echoing Hitler in article for Frankfurter Allgemeine – he wrote that members of the "globalised class" live "almost exclusively in big cities, speak fluent English, and when they move from Berlin to London or Singapore for jobs, they find similar flats, houses, restaurants, shops and private schools everywhere," group socialised only among themselves, and had no attachment to their homelands. Hitler said the same in 1933

Two activists from the Boycott, Divestment and Sanctions campaign disrupt Israeli "Holocaust" film in Berlin, prompting Israeli security officials to evict them. Jerusalem Post identifies one as Ronnie Barkan, from Israel

Now it starts: German President apologizes for "horrors" committed during the "Nazi" occupation in Greece | Deutsche Welle (a German government propaganda source): Poland, Greece team up on "Nazi"-era reparations demands

"Holocaust denial" has festered in UK, says Sir David Adjaye, award-winning Black architect of new £50 million memorial – born to Ghanaian parents. "The £50million structure, designed with Israeli designer Ron Arad, has been criticised, particularly over its chosen location next to the Houses of Parliament." These alien Jews have spattered hideous "memorials" all over the sleepy world – and then puzzle about incipient "anti-Semitism"

New York Times archive, 1993: On the trail of Adolf Hitler's Love Letters – we first saw Gutierrez and asked him in the 1970s; these fortune-hunters followed a tip we gave in 1987. But Gutierrez has been dead since 2004; either his family are sitting on them, smirking, or ...

Russia Today (Russian source): South Africa's Zulu nation joins White farmers in fight against [Black] government land seizures. What would DDR-trained Robert Mugabe say?

Friends like these: How a Saudi gang (evidently) murdered a dissident journalist, Jamal Khashoggi. The New York Times reports, Oct 9: Turkish Officials Say Khashoggi Was Killed on Order of Saudi Leadership | Oct 10: Turkey Names the Saudi Operatives

Alexander Mishkin, the Russian doctor unmasked as the second GRU agent who poisoned Skripal in Salisbury, is from a long Russian line of Mishkins who are Jewish. Let's watch how the Holocaust Industry covers that

The Sun, Easily horrified: Horrifying moment teen girls perform a Nazi salute at Auschwitz death camp
where more than a million people were killed

A Nazi-hunting husband and wife team just received top French honours. Who
are Serge and Beate Klarsfeld? – President Emmanuel Macron's head is emerging from his shell

The Atlantic: Is Jeremy Corbyn's Labour Party Anti-Semitic? - Yes, trust "Howard Jacobson"

RT (a Russian government source): British Intelligence is now officially a by-word for organized crime – Op-ed

Some of Hitler's last relatives living quiet lives in Long Island, New York. Well, relatively quiet

Piers Morgan slams [Black] professor for calling Winston Churchill a "racist" – he was that, among other things | "I'll educate myself on his atrocities and racist views": US astronaut Scott Kelly apologises for praising Churchill ... but is savaged for criticising "the man who saved the world from "Nazis"'. Daily Mail helpfully explains: Churchill was a controversial figure who played a key role while also being responsible for the Bengal famine of 1943. But does not mention not that Empire Windrush was actually a seized and renamed German vessel

Jerusalem Post: Prime Minister Benjamin Netanyahu thanks Austrian Chancellor Sebastian Kurz in New York for shutting down Die Aula, associated with the "far-right" Freedom Party. That's Free Speech | BBC: Outrage at girl's "racist" poem in southwestern Germany

Daily Mail: Outrage at "Anti-Semitic" Malaysian Prime Minister [Dr Mahathir bin Mohamad, 93] given a tour of Britain. He was democratically re-elected in January 2018 despite his age, which took Israel by surprise; he won 122 seats out of a total 222

breitbart: Increased ethnic diversity is making Brits miserable – "diversity" makes existing residents feel unhappier, while those leaving for areas populated by their own ethnic group are happier

Review is a Very Poor Piece of Work – Peter Hitchens replies to "liar" Evans. Evans was "Liar" Lipstadt's chief expert. Professor Sir Richard Evans, now Provost of Gresham College," was formerly Regius Professor at Cambridge (Regius Professor – an honour for which he unusually and against tradition applied; rather as Rommel unusually applied for his Pour le Mérite). Incidentally, we have not heard any mention of Liar Lipstadt recently

Times of Israel: Why this Christian, Eric Pickles [now "Fatty" Lord Pickles, swiftly rewarded] leads the fight in the UK against "Holocaust denial"

Global News: Stripping ex-"Nazi" death squad member, 17, [Einsatzkommando 10a] of Canadian citizenship is "reasonable," Toronto court rules

Russia Insider: Russia in Syria is in a continuous struggle not to give the Americans and Israelis any pretext for war they so badly want
New York Times: Face Paint, Balloons and "White Power": German Neo-Nazis Put on a Pretty Face

Crazy foreign fighters in Israeli Army: They seek escape, devotion, or "just want to shoot" -- Society's Child

Daily Express: Jeremy Corbyn to be sued for £100,000 by Jewish activist [Richard Millett]– No Millett photograph published?

Sven Lehmann of Germany's Green Party has filed a criminal complaint against a bookstore in Cologne which compares abortion with the "Holocaust"

Times of Israel: German court upholds Kuwait Airways' barring of Israeli passenger

How they do it: German bank under fire for "strengthening anti-Semitism" and "hatred of Israel": "The LGBT organization Magnus Hirschfeld Foundation terminated its account with the Bank for Social Economy in April to protest the bank's pro-BDS activity. Germany's financial sector has experienced a series of bank account closures due to BDS support. The Deutsche Bank, Postbank, DAB in Munich, and Commerzbank have shut down BDS accounts since 2016. The US online payment service PayPal shut down in September an account for the German BDS organization International Alliance"

German politicians, still trying to conceal true facts. The Guardian: What to do about Hitler's Berghof? Museum challenges far right interest – But will museum reveal that Stalin's operation Thunderstorm, the Soviet invasion of all western Europe, was nearly ready and planned to jump off in July 1941? Hitler moved east first

RT (Russian government source): Russian Ministry of Defence details chronology of murderous downing of Il-20 fifty miles off Syrian coast. It's the USS Liberty again.

So, why did Moscow naïvely accept the Jews' guarantee? RT (Russian government source): Russian Ministry of Defence details chronology of murderous downing of Il-20 fifty miles off Syrian coast. It's the USS Liberty again. Please skip unrelated ad


Ron Unz asks a rhetorical question: Has the ADL gone into hiding?

British Union chief Len McClusky in furious row with Jewish activists over Labour's anti-Semitism. And where were Shomrim? Who is paying British policemen to "protect" these activist descendants of the 1938 Jewish Kindertransporten – "he screamed abuse at us, then sat on a platform where anti-Semitic hate propaganda was handed out"

Code-cracking WW2 Bombe operation recreated in England – the "Bombe" was the Bletchley Park machine which mechanised cracking the Enigma code-machines' key, which was changed daily

The Guardian: "Nazi" war crimes suspect, 94, faces German trial in youth court | Holocaust-memorial urination trial reveals "lack of historical awareness" – now see the grotesque photo of Jewish community leader Charlotte Knobloch – isn't she ritually wearing a wig?

Times of Israel: Honouring Holocaust victims, Pope warns Lithuanians against "anti-Semitism" – Jewish activists accuse Lithuanians of not making any distinctions between the Soviets [Jews] who tortured and killed thousands of Lithuanians and the "Nazis" who did same with Jews

Ha'aretz: Israeli lawmaker proposes new "nationality" for immigrants not considered Jewish enough — "350,000 Israeli citizens who are defined as eligible under the Law of Return are not halakhically recognized as Jewish." — Food for thought

news.com.au: Trick [that] girl used to "execute" Nazis — in Reinhard Heydrich's view, she was like any other terrorist

In echo of "Nazism", book reveals similarities between Hitler acolytes and today's "far-right"

Press TV (Russian government source): Russia rejects Israeli findings on downed plane – the Israeli F16 was hiding under the Russian's wing

NBC news: Iceland's proposed ban on circumcision rattles Jews, Muslims – Mike Levin [originally from Chicago], leader of Iceland's Jewish community, said he thought many [of the 50 Icelandic Jews] were reluctant to tell the government. "That's sort of what happened in "Nazi" Germany. It was in your passport: 'Jude'"

Jewish Telegraph Agency: In J.K. Rowling's new novel, a villain is an Israel-hating anti-Semite – This coffee-house writer and billionaire fawns on Israel, heedless of the likely consequences: she will lose many of her 14 million "Harry Potter" fans but it will keep her (Jewish) stars happy

Holocaust historians call shredding of death records by Hamburg archives "catastrophic" –Archivist "thought they were duplicates"

Russia's secret plan to help Julian Assange escape from U.K. – the involvement of Israel Shamir hinted

The Forward: How [President Donald] Trump turned American Jews — and their Money — away from Israel. Report: must try harder, to please them

Yad Vashem criticises the new Holocaust museum in Hungary, known as the House of Fates, built by grateful Hungarian taxpayers at a cost of 28 million euros, to be transferred to the ownership of the Chabad EMIH Jewish federation. Will it make any mention of the hated Jews Peter Gabor, Matyas Rakosi, Miklos Farkas, and the other Jewish ministers to blame for the bloody 1956 uprising?

Ha'aretz: Majority of Israelis oppose accepting refugees, poll says

Marine Le Pen must undergo psychiatric evaluation, French Court rules – off to the Gulag with her!

Deutsche Welle (German Government source): German Embassy "Holocaust" video sparks "bizarre" debate in Brazil | Israel Shamir writes California: "Holocaust denial" is not illegal in the USA or Russia

David Irving has found both "Friedrichsruh" and all that remains, the long-lost steps (left), of Himmler's "Hegewald" site in Poland. Mr Irving's international group has completed touring the historical sites in Latvia, Lithuania, and Poland, formerly East Prussia

Ha'aretz: German "far-right" party AfD considers expelling members who attended "neo-Nazi" festival | Chemnitz unrest: German [domestic intelligence chief, Hans-Georg Maassen] dismissed, forced out by Left wing — immigrant, murder suspect released. Chemnitz was renamed Karl-Marx-Stadt in the DDR era | Far Left responds: German spymaster ousted for suggesting Real Video of "far-right" rampage was fake | The Guardian: Merkel "outraged" over chants at German protest rally – The demonstrators chanted "Nazi" slogans as they marched over death attack by two Afghan immigrants

mondoweiss.net: Jonathan Ofir finds that Israel says it is "entitled to violate the sovereignty of foreign countries" – it is hard to see why Israel should believe that international law applies to it at all

Forbes: USA is "one of 45 countries" infected by powerful Israeli Smartphone Spyware – The malware, dubbed Pegasus, is the creation of NSO Group, an Israeli company. It may breach American and other nations' laws against cross-border hacking. NSO has been caught up in spying scandals in Mexico and the United Arab Emirates

Richard Wagner's Overture to "The Mastersingers of Nuremberg" - the Berlin Philharmonic Orchestra at a 1942 concert to the workers at an AEG company plant in the German capital. Ten minutes of sublime majesty, the orchestra conducted magnificently by Wilhelm Furtwängler, before the onslaught of the philistines who destroyed the city and burned alive no doubt many in this audience – and before Mrs Merkel inexplicably invited into Germany one million foreigners of an alien culture. And don't forget to read the Comments including some idiotic haters from You Know Where

trt world: Dr Katy Sian, How accusations of "anti-Semitism" stifle academia in the UK

Prince William, Duke of Cambridge, unveils a [Jewish] bronze statue in honour of British "Holocaust hero" Frank Foley – as a British "diplomat" in pre-war Berlin Major Frank Foley faked "thousands" of documents to enable the infamous 1938 Jewish Kindertransporten which permitted the temporary admission to England of unaccompanied Jewish children from Germany. As MI6's leading German expert, Foley frustrated Rudolf Hess's brave flight to convey Hitler's 1940–41 peace feelers, which Churchill fatefully ignored; thus contributing incidentally, to the Jewish "Holocaust." Foley had a German-born wife, and became head of the MI6 network of double agents, the Double Cross System, on April 16, 1942. He led the MI6 interrogations of Hess, who in August 1987 was strangled to death in Spandau prison by a Black G.I., Tony Jordan, who still survives without prosecution in Berlin (you may well ask, How?) – Lord Janner, notorious chief of the Holocaust Educational Trust, was instrumental in naming Foley as "Righteous Among the Nations" by Yad Vashem – righteous, like the notorious late "Robert Maxwell", aka Jan Hoch

Times of Israel: The two U.S. billionaires who love Israel but hate Trump | The Jewish Voice: Our Gratitude to President Trump! – "As a result of the above unassailable evidence of Trump's support for Israel, we really don't understand our Progressive, Democrat, Liberal, Yiddish brothers and sisters, who still come up with descriptions of his support for Israel as toadying up to Jews merely for their votes"

The Guardian: Theresa May tells Jews: I do not underestimate "anti-Semitism' threat – Mrs May says she does not "underestimate the threat of 'anti-Semitism'", as she addresses a Jewish organisation in a speech. in which she also called for the U.K. to boost its trade with Israel and backed Israel's "right to defend itself" | The Israel lobby's non-stop attacks on Corbyn will backfire |Meanwhile: Why does Jeremy Corbyn's" anti-Semitism" and anti-Zionism make him so popular in England ?

Israel National News: Janet Levy, Polish "anti-Semitism" between the wars

Ex-Polizistin backte Ex-Cop eine Hakenkreuz-Torte | Jewish ritual chicken slaughter endures despite concerns | Euro News: Chemnitz protester jailed over Hitler salute | Daily Mirror (U.K.): German side axe seven players after images emerge of squad performing Hitler salute – World growing increasingly unsafe?

Newsweek (U.S.): WikiLeaks: leak shows that Julian Assange sought Russian visa. We have mixed feelings about Assange. He has leaked and published useful documents, but in 2009 he also leaked our private emails obtained by hacking, which enabled the Jews to identify our landlord – and the consequences

Daily Express: The rise of the right: What has fuelled a surge in support for European populist parties?

Book on Israel's deliberate maiming of Palestinians wins top academic prize, title "The Right to Maim: Debility, Capacity, Disability"

Ha'aretz: Robert Mueller "knows the name" of top Israeli official embroiled in Manafort case, Alan Dershowitz says

BBC: The UK's growing tech trade ties with Israel, by Jonathan Josephs

Daily Express: Labour anti-Semitism smear: Union chief [Mark Serwotka] sparks "outrage" by blaming Israel. Dr Goebbels once said: "One of the best ways to hide atrocities is to go on the offensive." Jennifer Gerber, director of Labour Friends of Israel, said: "Mr Serwotka's comments are despicable." Baroness Altmann and Lord Pannick, both Jews, join the kicking | Labour "anti-Semitism" row was created by Israel to distract from war crimes, British trade union boss suggests – Mark Serwotka sees something sinister going on in "the systematic attempt" to shut down criticism | Electronic Intifada: New challenge to Israel's effort to undermine and smear Jeremy Corbyn | How Israel's bogus definition of "anti-Semitism" shuts down free speech | Daily Mail: Dr Ellie Cannon and her husband Adam will flee U.K. over "anti-Semitism" row if Corbyn becomes prime minister – Jewish TV doctor Cannon [a second-generation product of the 1938 Kindertransport; also writes for MailOnline, i.e. she's their own journalist] reveals that they spent Jewish New Year discussing "the merits and logistics of fleeing." She said: "Jews who escaped Europe in the 1930s talked about the suitcases always being ready." But read and note the hostile Comments

Reuters: Air defenses down Israeli missiles near Damascus airport

Debunking Winston Churchill: It's time we faced the unpalatable truth that Winston's vanity and recklessness cost countless British lives and lost us our empire – writes Peter Hitchens in The Phoney Victory: The World War II Illusion, twenty years after David Irving said the same in Churchill's War. Time to ask, Cui Bono? Mel Gibson knew the answer

Gulf News: Who gets to define the meaning of "anti-Semitism"

Ben Sixsmith on The curious case of Ron Unz

Tobias Langdon, In the Land of Lies, Seeing, Saying and Pseudotopia

U.S. Jewish Journal removes from website professor's article bragging about Jewish control of porn – the article, "Triple ex-thnics: Jews in the American porn industry," glorifies and explains their dominant role | Egyptian journalist [Nada Al-Dib] on The secret of Jewish power - "The name 'Jew' has always been associated with lies, cheating, and plotting. The Jews' long history of deception and fraud has taught us that the Jews don't recognize promises and laws . . . The Jews employ every legitimate or twisted and dirty means to achieve their objectives, and adopt lies and subterfuge" – as encouraged by their annual ceremony, Yom Kippur | Jews in the American Media | CBS chief Leslie Moonves [a Jew] accused of years of sexual misconduct

Ha'aretz: Manafort and senior Israeli official meddled in Ukraine elections, Obama foreign policy

Red Ice: Bono declares his racist hatred of Swedes in the wake of their election – some people don't like democracy anywhere | The New Observer: European Union's illegal vote to punish Hungary for refusing Third World invasion

Jewish Telegraph Agency: Controversial historian won't run Hungarian "Holocaust" museum, new Jewish
owners say – they want to control History

As The Sun slowly sinks: German actress Rom Schneider claimed Adolf Hitler secretly romped with her mother

Black MP Diane Abbott walks away after Jewish teenager confronts her over belief that some Jews are targeted because of their "costumes"

White Phosphorous war crimes connect Israel to Monsanto – The use of White Phosphorus in civilian areas, even if not directed at the civilian population, is banned under the Geneva Convention on Certain Conventional Weapons

Himmler's healer: How the SS chief's physiotherapist saved Jewish lives during World War II – or not, as the case may be

"Rise and Kill First": New York Times reporter's book on Israeli assassinations – brim-full of jokes about killing Arabs

What the late President Nixon privately talked about the Jews as "born spies" – was he wrong? | Jewish Chronicle, U.K.: [Jewish] man jailed for hoax bomb threat to flight that he was running late for – with his revealing photo, but not mentioned: his stagger-you-Jack religion | Jewish Telegraph: Loyalty issues: Michael Cohen turned on [i.e. betrayed] President Donald Trump, at urging of his Jewish "Holocaust survivor" father – as Trump himself said, if you seek a lawyer – someone loyal – look elsewhere. If you seek a "survivor", they're everywhere |
How we learn English: Son of executed spies Julius and Ethel Rosenberg celebrates belated bar mitzvah – one person, who was told as an infant that the photograph of the two Jewish Soviet spies published at the time in the Atlanta Journal-Constitution showed "traitors," believed for many years that the word traitors meant "ugly"

Sky News (U.K.): Jewish MP [Luciana Berger] feels "unwelcome" in Labour after Jeremy Corbyn's 2013 "Zionist" comments | Norman Finkelstein to Dame Margaret Hodge, née Oppenheim, MP: "You haven't a clue what you're talking about!' | Shocking "Twitter" attacks on Dame Hodge, MP for her disloyal assault on her own Party leader, Corbyn
CONTINUED ON PAGE 2 | and ARCHIVE

* ASSHOL: "Association of Spurious Survivors of the Holocaust and Other Liars" | * AWPOW: Are we powerful or what!

OUR FRONT PAGE NOV 10, 2005: MR IRVING KIDNAPPED, JAILED IN AUSTRIA
Quick navigation

> contacting David Irving
> a two-minute cascade of other views on David Irving
> photos of David Irving
> latest copyright-free photo of David Irving (1.2MB)


---
Luftwaffe vzestup a pád © David Irving 1973. Život maršála Luftwaffe Erharda Milcha.
Czech translation © PhDr. Ivo Pospíšil, Csc.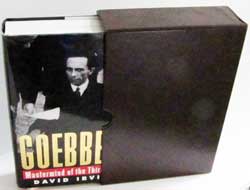 "GOEBBELS" IS NOW BACK IN PRINT: "I've been enjoying your Goebbels biography," writes Michael Zarowny. "Thank you for your extraordinary efforts to keep the text in print. The book is of a higher paper and binding quality than the standard publishing house text!"
Customer feedback from David B in Decatur, Georgia: " A while ago, I ordered "Hitler's War", and to my surprise, you signed it. Thanks!."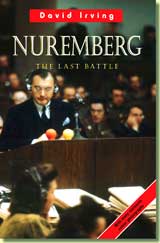 THE VIRUS HOUSE
David Irving's 1967 pioneeering account of Hitler's atomic bomb project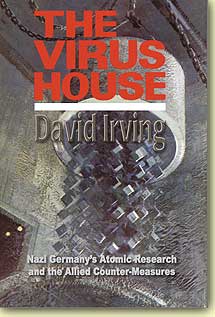 First published in 1967, and serialised by The Sunday Telegraph, Der Spiegel, and newspapers around the world. Said Nobel prize winner Professor Werner Heisenberg: "Irving's book is very good - it gives all the facts."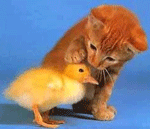 THROUGHOUT 2018:
Remember the writers and historians jailed in Germany, Austria, and elsewhere in the New Europe and even banned from visiting many countries in the British Commonwealth and "free world"